Was it from a wine press, then,

That rickety wine press Gutenberg rigged

the movable type interchangeable as grapes?

these great harvests of words

pressed into vast yields of books,

precious as spring water flowing through

Do we owe it all to the vine

that we shelve our books in libraries

as we cellar our wine in waiting rows,

putting up words and wine against our future need?

Was it the wine press, after all, that has made us

into such drunkards of the word

that we imbibe by the hour from folded sheets

turning pages like doors that open up

fathomless spaces within ourselves?


 

From Wild Apples (Parallel Press, 2004).
Used with the author's permission.
Purchase a framed print of this poem.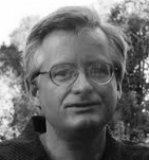 Timothy Walsh grew up in New Jersey, but has lived for the past twenty-five years in Wisconsin. His poems and short stories have appeared widely and his awards include the Grand Prize in the Atlanta Review International Poetry Competition, the Kurt Vonnegut Fiction Prize from North American Review, and the Wisconsin Academy Fiction Prize. He has been featured on Garrison Keillor's The Writer's Almanac and has been nominated three times for a Pushcart Prize. He is the author of a book of literary criticism, The Dark Matter of Words: Absence, Unknowing, and Emptiness in Literature (Southern Illinois University Press) and two poetry collections, Wild Apples (Parallel Press), and Blue Lace Colander (Marsh River Editions). Currently an assistant dean at the University of Wisconsin-Madison, Timothy's inspiration comes from always walking, whenever he can, and being on or near the water whenever possible-­canoeing, kayaking, sailing, or sitting by the shore. He also enjoys tending a garden of roses, climbing vines, and fruit trees while the garden tends to him.
KevinArnold:
An unexpected conceit with a strong ending.
Posted 04/23/2011 10:20 AM
mimi:
No Kindle or Nook can EVER take the place of a book! Wonderful, juicy poem, Tim! Sharon Auberle
Posted 04/23/2011 09:29 AM
dotief@comcast.net:
I like "open up/ fathomless places within ourselves." Thank you books and wine and Timothy!
Posted 04/23/2011 07:49 AM
jeanie:
"that we imbibe by the hour from folded sheets / of paper..." cheers to all drunkards of the word! nice poem, tim!
Posted 04/23/2011 07:27 AM
Katrina:
I recognise his face as well, from a poem Jayne fed us about nurturing plants. Memorable - thank you!
Posted 04/23/2011 07:04 AM
Gary Busha:
Is Need the mother of invention? Tim's poem is excellent in that method of questioning how today we enjoy the inventions of the past. Glad to see his work.
Posted 04/23/2011 06:51 AM