I was born on a mountain side
Where the setting sun hurls its final radiance
And grass glows in golden fire
The valley dark, long gloomed in shade.
I was born on a mountainside.
The day's first rays of sunrise
Steal severely through a crevice in my wall.
Slim shimmery spears, they pierce into my eyes!
I was born on a mountainside.
At dawn I in the valley behold
A solid mass of white morning mist
Like cotton strewn all over, covering end to end

Which soon boils slowly like a magic broth
In curly wisps dispersing into the air
Till all is clear and the sky is bright
And the great sun smiles its laughter to the world.


© by Hillary Kuteisa.
Used with the author's permission.
Purchase a framed print of this poem.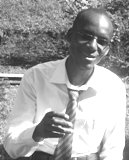 Hillary Kuteisa is an industrial chemistry major at Makerere University in Kampala, Uganda. Born in a hilly district of Uganda called Kabale, Hillary says his parents had a diverse collection of books so that, by the time he could read, "there was always something for me to delve into." A great lover of nature who is thrilled by beautiful sunsets and colorful rainbows, Hillary enjoys writing poetry and short prose.
New comments are closed for now.
mimi:
lovely, Hillary, thank you for sharing your beautiful Africa with us...
Posted 05/30/2011 10:48 AM
mimi:
lovely, Hillary, thank you for sharing your beautiful Africa with us...
Posted 05/30/2011 10:48 AM
dotief@comcast.net:
Wonderful!
Posted 05/29/2011 01:32 PM
Buckner14:
I'm not sure I've ever seen stronger images. Thank you for sharing your sharp perceptions with us..
Posted 05/29/2011 10:26 AM
vawomann:
Beautiful poem. I could see it all in its beauty and majesty. What a priviledge to be born on a mountainside and enjoy God's handiwork each day.
Posted 05/29/2011 10:24 AM
KevinArnold:
Yes: "boils slowly like a magic broth In curly wisps dispersing into the air Till all is clear and the sky is bright " Very nice.
Posted 05/29/2011 09:04 AM
Janet Leahy:
the morning mist boiling like a magic broth— lovely
Posted 05/29/2011 08:53 AM