The buzz and fumble, bellies
brushing yellow fuzz, potentilla 
blossoms with butter stamens so close 
I can feel heat sizzle, 
see the furious legs trembling,
yet bees scarcely notice me 
in the corner of their fuming, 
book of poems in my lap, 
tapping pencil counting
measuring lines 
of wasps, sweat bees, yellow
jackets, bumblebees — even flies 
so busy with business,
the commerce of sweet making.
From An Inventory of Lost Things (Centennial Press, 2009).
This poem first appeared in The MacGuffin (2006) and in Arborvitae (2008).
Used here with the author's permission.
Purchase a framed print of this poem.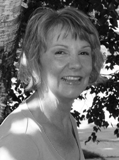 Karla Huston, Wisconsin's current Poet Laureate, lives in Appleton, Wisconsin. Author of six chapbooks of poetry, most recently An Inventory of Lost Things (Centennial Press, 2009), her book, Flight Patterns, won the Main Street Rag chapbook contest in 2003. She has earned numberous writing awards, including residencies from the Ragdale Foundation and Bread Loaf, and her work has appeared in many journals. Learn more about Karla at www.karlahuston.com.
wendy morton:
not just a sweet poem, a poem full of poetry: assonance, alliteration, consonance. A song.
Posted 07/13/2011 10:46 AM
KevinArnold:
ah, the commerce of sweet making.
Posted 07/13/2011 10:35 AM
Jo:
Love it Karla. Thanks for the sweetness this July morning.
Posted 07/13/2011 09:43 AM
jeanie:
sweet, sweet, sweet, Karla! love it.
Posted 07/13/2011 07:00 AM
Gary Busha:
Excellent poem and word choice by one of Wisconsin's finest poets. Alliteration is effective. Thanks, Karla.
Posted 07/13/2011 05:39 AM