Rarely, soapy-handed, I stop
smiling, hair dark and glossy.
beard and bifocals, I might pass
In pictures from my first wedding,
just a decade and a half ago, just yesterday.
Slimmer, touched with gray,
trim, with moustache waxed and a head
full of grand, grandiose dreams.
The wax sits on a shelf in the closet.
Smaller visions seep into their emptied space.
Play center field for the Yankees? Cancel that.
Make a family? Enter a check mark.
Tear up the Pulitzer acceptance speech.
This poem first appeared in My Poem Rocks (2009).
Used here with the author's permission.
Purchase a framed print of this poem.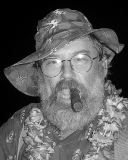 David M. Harris has, as he puts it, has "spent a lot of time with words." Working as an editor, author, publicist, college professor, and sundry other positions in the publishing, film, and educational industries, words have been a focal point of David's life. As a New Yorker with an MFA in fiction, he claims it's only logical that he lives in Tennessee and writes poetry, now that he is semi-retired.. David hosts a show called "Difficult Listening" that runs from 10 AM - Noon (Central time) on Sundays on WRFN-LP in Pasquo, Tennessee. You can stream it at www.radiofreenashville.org; video of the second hour (which is always devoted to poetry) is usually streamed and archived at www.ustream.tv.
ckparry@pipeline.com:
A perfect poem - becoming older can be beautiful when there are poets like you. Cindy
Posted 07/17/2011 10:02 PM
Eiken:
Wonderful poem David, thank you for sharing it with us.
Posted 07/17/2011 10:45 AM