Hold my hand
Wind whispers
Touch my cheek
Sun rises
Walk my path
Storm rages
My heart sings
No longer alone
© by Miriam Ruff.
Used with the author's permission.
Purchase a framed print of this poem.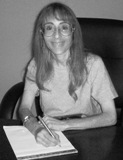 Miriam Ruff is a writer, editor, and teacher. Though she received her degree in Zoology, she quickly moved on to other pursuits; most notably, she spent several years in the film industry, eventually moving up to writing and producing short screenplays. She has also written and produced several full-cast audio dramas, which have played nationally on public radio. While she tackles all forms of writing, from corporate newsletters to educational material and newspaper articles, Miriam finds that writing short stories and poetry provide the most satisfying outlets for her imagination, as well as the most direct, and rewarding, connection with the reader. Author of three volumes of poetry, as well as a collection of short stories, her work has appeared in the Journal of Humanistic Psychology as well as in assorted newsletters, websites, and anthologies. Miriam lives in the Washington, D.C. area; learn more about her at www.bumbershootwriting.com.
jamster:
I love this poem...it's so short and simple, yet the images it produces are majestic.
Posted 10/03/2011 09:53 PM