With the sweep of her skirt, she brushes
the green sheen of summer from red rock walls,
slows rainbow trout in the creek,
chills Sycamores 'til their russet tears drop
into thickets of blackberry brambles.

Across the canyon floor, she searches
for lingering lizards and toads.
In her pointy boots, she shoos them out
along with brittle weeds. Her wicked laugh spirals,
cloaks the moon in amber mist.
She ruffles feathers of those she casts south
as shadows twist up the trees.

Upon burrow and log, she drums a beat
to conjure up the storm. Lightning flashes,
thunder rolls, it's time for her final feat.
With her conical hat raised high toward the sky,
she pierces the trembling clouds,
echoes moans that fade as she seeps
deep underground with the crackling rain.
© by Donna Pflueger.
Used with the author's permission.
Purchase a framed print of this poem.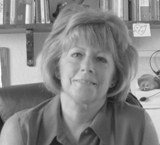 Donna Pflueger lives in the high desert of Cottonwood, Arizona where her inspiration to write occurs by simply stepping outside. An avid walker, she finds the steady rhythm helps her create. Donna's husband of 34 years, John, and her dog, Lewie, are her constant writing companions; one listens and critiques her work, and the other sleeps right through it.
New comments are closed for now.
M.AllenCopeland:
M. Allen Copeland: Donna, the visuals of the Autumn Witch are so well delivered that I can see her carrying out her mischief with whimsical delight. A truly great poetic contribution. I loved reading it...
Posted 12/04/2013 12:13 AM
Jo:
Donna, A wonderful first line--with a sweep of her skirt... And with her conical hat raised high... I really like your poem and am so glad to see you here.
Posted 10/31/2011 09:02 PM
69Dorcas:
How this brilliant canyon has gripped your reflection and brought it to be penned. I feel the ferver of this poem. Thank you.
Posted 10/31/2011 01:33 PM
Glen Sorestad:
A lovely and timely poem. Oak Creek Canyon is indeed an other-worldly place of stunning color and beauty.
Posted 10/31/2011 10:25 AM
mimi:
fun poem about an amazing place, Donna...i used to live in Flagstaff, so i know the canyon well!
Posted 10/31/2011 09:30 AM
Anjie:
Love that wicked laugh that " spirals, cloaks the moon in amber mist". This is wickedly awesome!
Posted 10/31/2011 07:25 AM