Cracks are inevitable as wrinkles

in an old house that's been slowly settling

hairline cracks spiderwebbing walls,

pressure cracks spanning ceilings

a few jagged lightning bolt cracks

descending on arches and windows.

To repair a crack well, you must first widen it.

Gouge out the loose plaster with probing tools,

scraping away old layers of paint that record

the changing styles of lost decades.

Cover the cracks with fiberglass mesh,

then work the plaster rhythmically,

feathering the angle of the plaster knife,

laying the swath in smooth motions….

As you work, Chopin mazurkas on the stereo

insinuate themselves into the wet plaster.

Your arm motions fall into three-quarter time,

and the work becomes something

Arm strokes blend into arm strokes,

working the plaster, the mind blank as a wall.

Hours pass. The piano seems an echo

as you work on the house, and the house

Forever after, you see plastered surfaces

as frozen artifacts of muscular motion,

and, sitting in the quiet of the room,

you can hear faint mazurkas

echoing in the walls.


From Wild Apples (Parallel Press, 2004).
Used with the author's permission.
Purchase a framed print of this poem.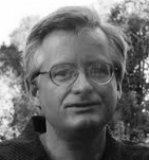 Timothy Walsh grew up in New Jersey, but has lived for the past twenty-five years in Wisconsin. His poems and short stories have appeared widely and his awards include the Grand Prize in the Atlanta Review International Poetry Competition, the Kurt Vonnegut Fiction Prize from North American Review, and the Wisconsin Academy Fiction Prize. He has been featured on Garrison Keillor's The Writer's Almanac and has been nominated three times for a Pushcart Prize. He is the author of a book of literary criticism, The Dark Matter of Words: Absence, Unknowing, and Emptiness in Literature (Southern Illinois University Press) and two poetry collections, Wild Apples (Parallel Press), and Blue Lace Colander (Marsh River Editions). Currently an assistant dean at the University of Wisconsin-Madison, Timothy's inspiration comes from always walking, whenever he can, and being on or near the water whenever possible-­canoeing, kayaking, sailing, or sitting by the shore. He also enjoys tending a garden of roses, climbing vines, and fruit trees while the garden tends to him. Learn more about Timothy at http://timothyawalsh.com/.
">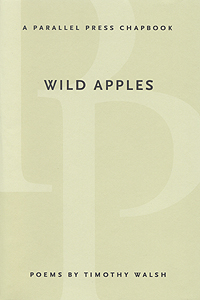 Eiken:
Stunning poem, thank you for the wonderful read this day:)))
Posted 01/08/2012 04:55 AM
Jo:
What a wondrous poem. The mazurkas, the dance of plasterer and pianist, and poet, one.
Posted 01/06/2012 06:03 PM
mmswedish:
Thank you for posting this poem. It is so beautiful. I grew up with Chopin in my family walls - and Beethoven, Rachmaninoff, Gershwin, T. Dorsey, Glenn Miller, Bernstein, and more. Built 75 yrs ago. Someone else lives there now. I wonder, when they lie in bed at night - do they hear the music resonating from those walls? Margaret Swedish
Posted 01/06/2012 11:06 AM
mimi:
yes, wonderful poem, Timothy. so full of images, motion and music... Sharon Auberle
Posted 01/06/2012 10:11 AM
Ralph Murre:
Excellent. I know many plasterers hereabouts (the kind that do the work originally) (still) and your line about frozen artifacts of muscular motion is quite apt. I wouldn't care to wrestle any of those guys, due to their constant exercise. I also know many great poets hereabouts, whom I DO choose to wrestle, but you remind me of the need to constantly execise for that combat as well, if I'm ever to get into your league.
Posted 01/06/2012 09:24 AM
karenpaulholmes:
love this. I can hear the Chopin.
Posted 01/06/2012 09:16 AM
KevinArnold:
"To repair a crack well, you must first widen it." Great line, full of a lived life.
Posted 01/06/2012 08:39 AM
Carol Hauer:
I love this! I love the process that has been "plastered" into this poem. I love the sound of the mazurkas being caught in the wet plaster. I love the notion of the dance of work. I think the guys on "This Old House" would appreciate this poem! Thank you.
Posted 01/06/2012 08:11 AM
dotief@comcast.net:
I love how the sound is made solid. Wonderful poem!
Posted 01/06/2012 08:08 AM
Kay Sanders:
What a masterly translator you are for formerly mute walls!
Posted 01/06/2012 05:19 AM