Sometimes, when she couldnít sleep,
My grandmother would walk down the hall
To the little room with the crooked wall
Where Granddaddy slept, wake him,
And they would go downstairs to the kitchen
So he could brush her hair.
They turned down the heat at night
So every shiny surface glittered with cold
And with the blue-white light of the fluorescent rings
That hung like miniature rings of Saturn over the kitchen table
And, it never failed they said,
That, in the pasture across the road, one cow, still awake
And seeing the beacon the kitchen window held,
Would get up from her flattened grass
And walk down the hill to the fence, believing
That corn was coming in the big bucket
Carried by the man with his coat buttoned high,
His hands in heavy work gloves
Pouring the kernels into the trough
Like so much hard rain,
And, the other cows, waking
And seeing the first, would get up,
Would amble down the hill to join their sister
Until seven stood at the fence, waiting,
Dark form jostling dark form.
I donít know how long
The cattle waited before giving up
And returning to their frozen
Beds, just that something about hope and love
Refuses denial and presses us on
Like the creek at the bottom of the hill,
That every night tells the story
Of the man-in-the-moon
Who fell in love with
The nymph-of-the-water
But could only watch
As her body shimmered and curved
Over the silver rocks
And then became one
With the dark.
© by Sherry Beasley.†
Used with the authorís permission.

†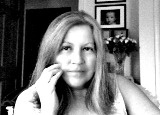 Sherry Hughes Beasley lives in the foothills of the Blue Ridge Mountains in southern Virginia. Her poems have appeared in numerous literary journals and she is the recipient of eleven poetry awards, including the 2009 Edgar Allen Poe Memorial Award. A jeweler, perfumer, soapmaker, and environmental and animal protection activist (says Sherry, "I would rescue every abused and/or neglected animal in the world if I could!"), she is the mother of two grown sons, has one granddaughter, and lives in a house she and her husband designed themselves.

Sharon Urdahl:
...I so enjoyed this beautiful, tender love poem.
Posted 02/17/2012 02:49 AM
marenomitchell:
Thank you for blessing us with this exceptional poem.
Posted 02/15/2012 09:47 PM
transitions:
the light from this poem shines ~ how it shines... Judy
Posted 02/15/2012 09:12 PM
69Dorcas:
Absolutely beautiful. I am speechless. I tend not to care for family stories, but this brings love and hope to life, vibrant and real. Thank you. God Bless your insights.
Posted 02/15/2012 10:37 AM
Linda Lee (Konichek):
Sad, but beautiful and powerful, excellent use of details and such a message.Thanks, Sherry.
Posted 02/15/2012 10:11 AM
LisaV:
What a melancholy and beautiful poem. It touches on what is both sad and happy in life; connection and yearning. I was especially touched by the shimmering nymph disappearing into the dark. Thank you for this poem today.
Posted 02/15/2012 09:40 AM
dotief@comcast.net:
Such incredible images! I love this poem and its gentle story of hope and love! I can almost hear cowbells retreating. Magic!
Posted 02/15/2012 07:44 AM