He runs red-faced stumbling up the stairs
plants himself solidly next to my chair and pauses
to catch his breath, observe the scene—
desk, lamp, bills, even at seven
he understands that the universe
whether sun, moon, planets
or the lines on his father's face
must be configured in certain ways
to negotiate a cookie
a half-hour before dinner.

To say, sure,
reach deep into that jar of cold formed earth
and retrieve your prize
hold it high like a general's flag
behold its dark chips as the possibility
of pleasure and victory
over immovable forces.

or

No! Dinner! Remember the dinner!
where battles have been waged and lost
Brussels sprouts, broccoli
good soldiers of the good earth
left pierced, broken, rotting in the field.

I feel him studying me.
No, not me,
this universe parallel to his.
The sweepstakes entry form
lies at the corner of the desk
(who knows, if the stars
are aligned just right).
I crush it in my hand.
Get two, I say,
one for me
and one for you.
This poem first appeared in Families in Society.
Used here with the author's permission.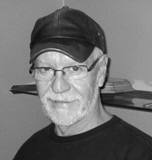 Robert Nordstrom is a poet, freelance writer and school bus driver living in Mukwonago, Wisconsin. A retired editor of several scholarly and trade magazines, he has published fiction and poetry in various literary publications. As a school bus driver, his goals for the school year are modest, though a bit subversive: to teach a second grader it's probably best she not lick the seat in front of her, and to teach high schoolers how to respond when an adult says good morning. Thus far, limited success.
Buckner14:
Neat poem, one most grandparents can relate to--and thanks for letting us get to know you.
Posted 02/16/2012 11:27 AM
pwax:
Well done! He won the sweepstakes. Phyllis Wax
Posted 02/16/2012 10:33 AM
JanetruthMartin:
Fantastic! The poem and the about Robert part.
Posted 02/16/2012 07:56 AM
Russell:
I agree with Lisa..."great ending." But that surprise ending is really only the culmination of a perfectly delightful piece, start to finish. Good job, Robert!
Posted 02/16/2012 07:40 AM
LisaV:
great ending!
Posted 02/16/2012 07:14 AM