Is his ghost moved by the plaintive strains
Of the andantino the violinists play for him,
In his name? The notes surge and swirl
Around the drawing room and out into the garden,
Where primroses breathe out the fragrance that he loved.
Is he walking out there, ever so quietly,
Reminiscing in the garden
About something he believed
He did not bring to fruition,
Even now as whippoorwills whirl and wheel
About him and through him in the sun?
Perhaps he fingers with fingers unseen
A wandering rose hanging from a trellis,
Dangling there like a kiss,
Blown like pollen from some remembered lips,
Suspended there, like notes in the air.
Is he pleased now,
To know that he can resign himself at last
To imperfection, that he can really be at rest?

© by Jerome L. Wyant.
Used with the author's permission.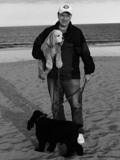 Jerome L. Wyant is a lecturer in Creative Writing at SUNY-Albany. Published in many journals, including The Prairie Schooner, ICON, The Café Review, and Vermont Life, his current project is a long poem about a divorce and its consequences. Jerome lives in New Windsor, NY, with his two beautiful cocker spaniels.
PolythenePam:
Captures that artistic temperament so...artistically...
Posted 07/18/2013 05:45 PM
raygoe:
the questions leave the reader in the only way true passion every really continues "dangling there like a kiss" perfect in how its imperfection inspires and creates
Posted 02/18/2012 09:38 AM
marenomitchell:
A delicately rendered fear of every creator. Thanks for expressing it.
Posted 02/17/2012 11:04 AM
KevinArnold:
Oh, the artist's nightmare . . . "something he believed / He did' not bring to fruition" Well done.
Posted 02/17/2012 09:19 AM
mimi:
poignant and lovely piece...love the oh so true ending.
Posted 02/17/2012 07:56 AM