Bacon. Eggs. Toast.
A waitress with nothing
to say to you but "Hey"

as the day warms up.
On the far side of the two-lane
you see a stretch of field.

There's a moment
when nothing moves but air.
Peace. And you are there.
© by Phebe Davidson.
Used with the author's permission.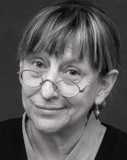 Phebe Davidson is the author of 23 published collections of poems. A retired English professor, she thinks of herself as a recovering academic. Still up to her neck in poems, she is the founding editor of Palanquin Press, a contributing editor for Tar River Poetry, and a staff writer for The Asheville Poetry Review. She also serves on the Board of Governors for the South Carolina Academy of Authors. Her poems and essays appear in print journals and on the web. She lives in Westminster, SC with her husband Steve and their cat Fripp.
apersephone:
I'd like a morning like this, calm with plastic surfaces, a road, an empty thought....I enjoyed your gift of the poem!
Posted 02/28/2012 04:33 PM
Sharon Urdahl:
Loved your poem...a few words well placed, said it all...so simply.
Posted 02/19/2012 12:11 PM
marenomitchell:
Makes me want to go out and eat breakfast all over again!
Posted 02/18/2012 11:12 AM
wendy morton:
Spare, lovely.Peace.
Posted 02/18/2012 10:47 AM
mimi:
yes, a small meditation that leaves you content...
Posted 02/18/2012 08:27 AM
dotief@comcast.net:
Wonderful images. I am there!
Posted 02/18/2012 08:22 AM
pwax:
Not a wasted word and a nice rhyme at the end. Perfect. Phyllis Wax
Posted 02/18/2012 07:31 AM
penhart:
Love this poem, Phoebe. Reminds me of all the small town cafes Bill and I ate in when we drove cross-country to New Mexico. We chose to leave the freeways and eat local. It was great!
Posted 02/18/2012 06:49 AM
r1manchester:
like "The Hawk", Ms.Davidson has captured a lot in just a few lines. As my generation would say, "neat Phebe,neat"!
Posted 02/18/2012 04:37 AM
r1manchester:
Posted 02/18/2012 04:35 AM