on my 10 gnarly darlings;
I whistle Don't Fence Me In.
Grudgingly they hum along.
© by Merle Hazard.
Used with the author's permission.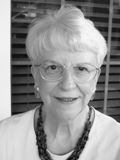 Merle Hazard lives in Macon, Georgia. Her poems have appeared in a number of secular and inspirational publications. A home health and hospice nurse for many years, she worked as a director of programs as well as at bedsides. Now retired, Merle enjoys reading, walking, playing bridge, and spending time with friends and family--including her two sons and five grandchildren.
69Dorcas:
Cute!
Posted 06/29/2012 07:20 AM
UnicornsQuest:
Great! And so true!
Posted 06/06/2012 08:43 PM
LindaCrosfield:
(looking ruefully at feet). Love this one, Merle! So true. Love them humming along, grudgingly. Thanks for my (first) morning smile!
Posted 05/20/2012 11:12 AM
Buckner14:
What fun! Thanks for starting my day off with a wide grin!
Posted 05/20/2012 09:11 AM
dotief@comcast.net:
If I could go barefoot all year long, I would. Shoes give me the blues! My toes know whereof you speak!
Posted 05/20/2012 09:00 AM
Wilda Morris:
What fun! I have not polished finger or toe nails for years, but maybe I will do so this week!
Posted 05/20/2012 07:35 AM