Queen Anne's lace dandies up

a ditch, like embroidered hankies

Such tiny seed-pearl petals

in common places, fine as tatted

borders, blanket-stitched to burlap.



From Telling Tales of Dusk (Press 53, 2009).

This poem first appeared in The Christian Science Monitor, © 2009.

Used here with the author's permission.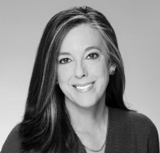 Terri Kirby Erickson is the award-winning author of three collections of poetry, including her latest, In the Palms of Angels (Press 53). She considers herself blessed and fortunate to have any success at all, doing work she loves. "Poetry has been such a healing force in my life," says Terri, who shares her love of writing and reading poetry by volunteering at the Derrick L. Davis Forsyth Regional Cancer Center in Winston-Salem and guest lecturing in creative writing classes at R. J. Reynolds High School. Terri has also taught poetry at Salem College and has conducted a number of poetry workshops for teenagers. Asked her career goals as a published author, she declares, "I want to make poetry more popular in this country than NASCAR!" A North Carolina native, Terri lives in a small town outside of Winston-Salem, with her husband of twenty years. Learn more about her at http://terrikirbyerickson.wordpress.com.
loisflmom:
So beautiful,like the flower. I never thought of Queen Anne's Lace as a weed, and apparently the local upscale florist doesn't either. He uses it in many arrangements as a lovely substitute for baby's breath!
Posted 05/21/2012 02:27 PM
marenomitchell:
Delicate from beginning to end!
Posted 05/21/2012 11:40 AM
wordsmith:
My Dad loves Queen Anne's Lace. I think of him everytime I see it growing. Thank you for your fabulous poem.
Posted 05/21/2012 11:00 AM
dotief@comcast.net:
Love it! Reminds me of my childhood summers when we went flower-picking and Queen Anne's lace grew everywhere. Simple things held so much magic when we are young!
Posted 05/21/2012 09:38 AM
Wilda Morris:
A wonderful poem to start this new day! Great use of simile and metaphor as well as alliteration, etc. Indeed, Queen Anne's lace "dandies up a ditch" or field.
Posted 05/21/2012 06:37 AM