It's what I'd be in any
heroic tale, my job
to merely establish context, 

pave the way for conflict,
never succeed except
through failure, the unnamed face 

in Star Trek, you know the one,
you've never seen him before
and yet he seems familiar, 

upright, close-shaven, deferential,
compliant, his only lines 
Yessir, Right away, Look out!

You know right away 
he'll never make it
out of this episode alive.
© by Scott Owens.
Used with the author's permission.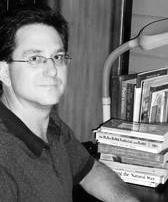 Scott Owens lives in Hickory, NC, with his wife and three children. Widely published and the recipient of numerous awards, he is the founder of Poetry Hickory, editor of Wild Goose Poetry Review and 234, and vice president of the Poetry Council of NC. The first in his family to graduate from high school, Scott credits poetry with turning his life around.

marenomitchell:
This Extra underestimates himself, and is not in the background! Good to see you here, Scott.
Posted 05/22/2012 06:06 PM
judithc:
Wow! Sobering look at modern Rosencrantz and Guildenstern...except that the speaker here knows where he's headed. A smart look at passivity!
Posted 05/22/2012 11:02 AM
Tyler Gabrysh:
Swell poem! As if by-standard, but certainly not sub-standard. Great angle on the hero theme.
Posted 05/22/2012 10:54 AM
dotief@comcast.net:
Enjoyed this! We can all relate to being just another face in the crowd. Very nice!
Posted 05/22/2012 10:07 AM
Anne Harding Woodworth:
Yes sir, he seems right away so familiar. Look out! We're all identifying with him. Nice going, Scott.
Posted 05/22/2012 08:45 AM
phebe.davidson@gmail.com:
A pungent commentary on human condition, and reminiscent of Hank Williams to boot. Nice wry little poem!!!
Posted 05/22/2012 06:11 AM