June 6.†D-Day.†Those seacoast towns

are like any other on the northern shore

of France.†You couldnít tell

of white crosses and stars of David

splayed across the bone yards.

Walking the beach at sunset

a metal hulk buffeted by waves.

you almost hear in the distance

†

Used with the authorís permission.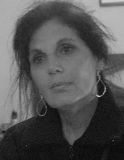 Christine Vovakes is a Northern California poet and freelance writer who grew up loving the tactile vividness of poetry. Hoping to instill that love in her children, she often read poems to them from the illustrated anthology, Talking to the Sun. Christine knew she was making inroads the day her son requested, "Mom, read me the one about how good the wind felt on a boy's feet." Christine's poems, articles, and photographs have appeared in publications ranging from the Journal of the American Medical Association and Christian Science Monitor to Boston Literary Magazine and the San Francisco Chronicle.
pwax:
Very evocative. Thank you. Phyllis
Posted 06/06/2012 10:03 AM