It's the best gift you ever gave us.

Guaranteed to lift me up from

guaranteed to force even somber souls

guaranteed to make the world

a happier place, for at least a

Imagine what might happen, Lord,

if all across the world, each day,

all of us—presidents, prisoners,

shift workers, shopkeepers,

zookeepers and zealots alike—

took two minutes to listen to

Oh, what a different world we'd have!

For in those lyrical laughs, those

 

From A New Mother's Prayers (Loyola Press, 2004).

Used with the author's permission.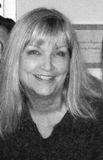 Jayne Jaudon Ferrer is the author of four books of poetry and a nonfiction books about games. A public relations specialist and freelance journalist, Ferrer speaks frequently at chuches, schools, and writing-related events. Her work has appeared in hundreds of publications, ranging from Boca Raton Magazine to Christian Parenting Today, and she is the host and editor of YourDailyPoem.com. Originally from Florida, Jayne now lives in Greenville, South Carolina. The mother of three sons, she enjoys reading, music, old movies, and good conversation. Learn more about Jayne at www.jaynejaudonferrer.com.
tannerlynne:
Oh I love this this Jayne! One of my daughter's had a doll that laughed. Every time she tuned it up side down and back it would giggle and the two of us couldn't help but giggle too. Thanks for the memory
Posted 05/01/2013 06:03 PM
laurasalas:
Yes! We sorely need those uplifting giggles. Thanks for a great Parade!
Posted 05/01/2013 04:22 PM
Nancy Simpson:
Jayne, Thank you for all the work you do to bring readers poems. I appreciate it more than you can imagine.
Posted 05/01/2013 07:02 AM
Joe Sottile:
Jayne, thank you very much for sharing all of these wonderful poems on a daily basis! Bravo!
Posted 04/30/2013 10:54 PM
Jo:
Thank you dear Jayne. The parade continues to be a grand tradition. And your poem was a good ending. What better than Edne's innocence?
Posted 04/30/2013 09:50 PM
Donna Pflueger:
Beautiful, Jayne. Thank you for a wonderful parade of poems!
Posted 04/30/2013 07:56 PM
twinkscat:
Sorry--"Eden's innocence"--and I'm an English teacher :)
Posted 04/30/2013 04:59 PM
twinkscat:
I like "Eden's innocense." Rousseau would be proud.
Posted 04/30/2013 04:58 PM
JanetruthMartin:
Oh, I love this...esp. the ending! I had the pleasure of listening to baby giggles yesterday, and it is the BEST sound in the world! Thank-you for a super-enjoyable April Parade and then the extra 'spectator's parade' today. So wonderful! Long live the poet and poetry!
Posted 04/30/2013 03:36 PM
barbara eknoian:
Babies are precious, and their giggles even more so. Lovely poem!
Posted 04/30/2013 01:37 PM
transitions:
I thought nothing was better than chocolate...until I read your poem. Judy
Posted 04/30/2013 12:41 PM
wendy morton:
Imagine! The world might change.
Posted 04/30/2013 11:01 AM
Dorcas:
Ha. To enter the Kingdom of Heaven you must have the innocence of a child....
Posted 04/30/2013 10:18 AM
Joe Sottile:
Bravo! I love this: "...lyrical laughs, those lusty, honest chuckles..."
Posted 04/30/2013 09:49 AM
mimi:
truer words were never spoken--sweet poem, Jayne.
Posted 04/30/2013 09:40 AM
chris schulz:
"presidents, prisoners, shift workers, shopkeepers zookeepers and zealots alike- love the alliteration and love YourDailyPoem! Thank you
Posted 04/30/2013 09:37 AM
peninsulapoet:
Yes, this joy could heal the world. Thank you.
Posted 04/30/2013 09:21 AM
rtaylor947@aol.com:
Great poem, Jayne! I love the allusion to Eden at the end.
Posted 04/30/2013 09:11 AM
Wilda Morris:
A beautiful poem!
Posted 04/30/2013 08:56 AM
CamilleBalla:
Wonderful poem! --and great title!
Posted 04/30/2013 08:48 AM
dotief@comcast.net:
I love it, Jayne. How perfectly you have captured the essence of that joyous sound.
Posted 04/30/2013 08:02 AM
mjorlock:
I was listening to my granddaughter (now 16 months old) giggle and laugh as she played ball with Tripp, my dog. You captured the essence of her joy completely.
Posted 04/30/2013 07:35 AM
Charly:
Just wonderful!
Posted 04/30/2013 07:26 AM
gretchenfriel:
Jayne, A true reminder of God's invitation to observe goodness in the everyday. Beautiful!
Posted 04/30/2013 07:15 AM