From  Summer: An Eclectic Anthology of Poetry and Prose (Silver Birch Press, 2013). 
Used with the author's permission.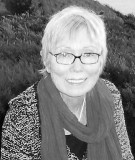 Tere Sievers, originally a Jersey girl, lives in Long Beach, California, and works as a psychotherapist. Eating tomatoes from her garden is one of her great delights, as well as visiting her vagabond sister in various tropical climes. For the enjoyment of the children in her life, she has published a book of children's poems, Blueberry Pancakes and Monkey Pajamas. Three of Tere's poems are included in the Green Anthology, from Silver Birch Press. This poem is from their Summer anthology, just out last month.
Dorcas:
I was born in July. A whiff of that day when life begun.
Posted 01/03/2014 07:45 AM
mimi:
I can smell the rain and feel it too--lovely!
Posted 07/13/2013 09:24 AM
KevinArnold:
I love the compact line "I remember young Julys," and wonder who it was who said writers are the first to take their shoes off in the spring and first to put them on again in the fall.
Posted 07/13/2013 08:18 AM