word by wrd, syllable by slbl.
Soon we'll cre8 a class in skool
in History class (hst clss)
Words in their full splendor
are luxuries now. No time
for lexical complexities,
Just give me the Re.
the frivolous extravagance
of reading, writing or listening
to so many sprawling words?
From The Beauty of Listening (Aventine Press, 2013).

Used with the author's permission.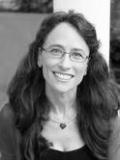 Linda Eve Diamond has published books in multiple genres including poetry, self-help, business, and education. Her latest is The Beauty of Listening, a listening-themed poetry book. Learn more about Linda, who lives in Hollywood, Florida, at http://LindaEveDiamond.com.
Dorcas:
Love this poem. I fear for the dmse (demise) of ltrtr (literature).
Posted 09/27/2013 10:15 PM
Wilda Morris:
No vowels worked in Biblical Hebrew - but left scholars with a lot of questions concerning what was meant! This is a clever poem.
Posted 09/05/2013 11:39 AM
Ross Kightly:
As a supporter of Slow Food and Slow Thinking Into Every Corner, I applaud the sentiments of this poem - well done - however, as ever, a balance ought to be struck between preserving wealth of the word-hoard and accepting innovation - I read today that the OED has bent its own rule to accept Tweet in the new sense before its decade of probation is up... While we can, let listen to birdsong and eschew "social media" if we so desire! Thanks for this excellent poem. Yours, Unashamed Elitist Word Lover.
Posted 09/05/2013 01:32 AM
msruff:
Language evolves, but words should be cherished, not destroyed. I wonder what will happen when the last vowel is gone.
Posted 09/04/2013 01:46 PM
hujsaked@aol.com:
Catapulting toward illiteracy. u no?
Posted 09/04/2013 10:07 AM
erinsnana:
I love this, and you are so right!
Posted 09/04/2013 09:16 AM
CamilleBalla:
gr8 poem you cr8td, Linda. I often think along these lines and wonder WHO will NOT be able to afford to slow down from this superfast pace--and what better way to slow down than through reading or writing poetry? CAB
Posted 09/04/2013 08:47 AM
Katrina:
We've been languaged!
Posted 09/04/2013 08:35 AM
wgvollrath:
Unfortunately, spelling has been viewed as a hinderance to good writing in our school systems for the last 20 years...
Posted 09/04/2013 08:17 AM
Ralph Murre:
gr8
Posted 09/04/2013 07:48 AM
Larry Schug:
Give all those musical, magical, mystical written out words to the poets. We'll cherish them, keep them fed, honor them and allow them to fulfill their destinies. I'll take all the words anyone wants to discard; they make me a rich man.
Posted 09/04/2013 07:32 AM
mimi:
sadly, o so true...good poem, thanks, Linda.
Posted 09/04/2013 07:29 AM
Eiken:
So true, scary to think of it and so well versed :) Maire
Posted 09/04/2013 06:10 AM
laurasalas:
Fantastic! I especially love the last stanza and Time is growing short for lexical complexities, syntactical tactics,
Posted 09/04/2013 05:34 AM