So grandiose, the two Korean tiger
statues at the entrance to Shinheung College.
The extinct species carved from sandstone
as if they just padded down from Do-Bong
Mountain and leaped upon the pedestals.
They survey the campus grounds with eyes
like burned-out stars. Everyone loves them.
Passing coeds in tight shorts hope
the tigers' ambience brings good luck
on nursing exams. Professors and admin
workers bow to their native felines,
and foreign English teachers pose
for pictures with the tigers as if
they were mythological beasts.
 
But three find the statues grotesque--
the three white ducks in the pond
across the street behind the laurel hedge.
They're nervous and underweight.
Nighttime is the worst--the tigers' eyes
shine through the hedge like lanterns.
© by Dennis Trujillo.
Used with the author's permission.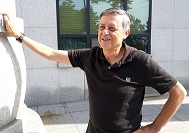 Dennis Trujillo served twenty years in the U.S. Army, then spent fifteen years teaching math. He began writing poetry one day in the winter of 2010, when his high school staff forgot to notify him there was no school because it was a snow day. In the vacant classroom, he was overwhelmed with an impulse to write a poem titled "Snow Day". That one opened a floodgate of impulses for more; Dennis has been writing and publishing poems ever since. He now teaches English at Shinheung College in Uijeongbu, South Korea.
Cathy V:
I just discovered this site and I agree with Wilda M; I want to go to Shinheung College to see the tigers! What an echo to Blake's "Tyger" with the dual allusion to good and evil; right on the border of two Koreas....hmmm! Brilliant.
Posted 12/27/2013 05:23 AM
Jo:
the poem is a gem, but I especially like the last line. wonderful Dennis.
Posted 09/05/2013 10:37 PM
Judith Heron:
What a beautiful 'turn' at the end of your poem. I am grateful for that 'snow day' and all it opened in you.
Posted 09/05/2013 12:30 PM
Wilda Morris:
This poem makes me want to travel to Shinheung to see the tigers!
Posted 09/05/2013 11:35 AM
marenomitchell:
Superb poem! Thanks.
Posted 09/05/2013 11:12 AM
KevinArnold:
Yes, great unexpected couplet at the end.
Posted 09/05/2013 10:11 AM
Janet Leahy:
I love that these tigers might have just "padded down" from the mountain. And the poor ducks behind the laurel hedge doomed to worry, wonderful! Thanks Dennis,
Posted 09/05/2013 07:45 AM
Charly:
Love this poem!I can see those eyes and the dodging ducks.
Posted 09/05/2013 07:31 AM
Larry Schug:
I like the straight forward language of this poem, not to mention what it says to me on a metaphorical level, whether intended or not.
Posted 09/05/2013 07:26 AM