"Will you please get that cat out of your bed!"
I shout, opening Janet's door to say goodbye— 
on my way down the hall, out to the garage, 
onto the freeway towards work.
She draws Marshmallow closer
kisses his ears, eyes, nose and whiskers.
"He's full of love," she smiles.
From Heavy Lifting (Alehouse Press, 2007).
Used with permission.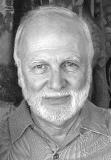 David Alpaugh has been a featured poet at bookstores, colleges, cafes, and poetry organizations in the San Francisco Bay Area more than 100 times. His first full collection, Counterpoint, won the Nicholas Roerich Poetry Prize from Story Line Press, and his poetry and essays have appeared in numerous literary journals. David holds degrees in English from Rutgers University and the University of California, Berkeley, where he was a Woodrow Wilson and Ford Foundation Fellow. He was also a finalist for Poet Laureate of California. Learn more about David at
www.davidalpaugh.com
.
JanetMarie26:
Love it dad!
Posted 11/01/2013 11:39 AM
Wilda Morris:
Love it!
Posted 11/01/2013 10:59 AM
mimi:
so who is the wiser one???
Posted 11/01/2013 07:51 AM
njc:
Ahhh, purrfect!
Posted 11/01/2013 07:45 AM