I'm an old black kettle,
   With a very crooked nose,
But I can't help being gay
   When the jolly fire glows.
I'm everybody's servant,
   There's no end to my toil,
And all my days are spent
   In an everlasting boil.

In my smoky corner here
   No holidays I see,
Yet all Christmas feasts
   Were spoiled without me.

So contentedly I work,
   And hope yet to be told
I'm a good and faithful kettle,
   Though ugly, black, and old.
This poem is in the public domain.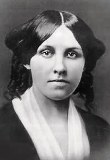 Louisa May Alcott was one of four daughters born to Bronson and May Alcott. Poverty was their constant companion; Mr. Alcott spent most of his life teaching and philosophizing and Louisa worked from an early age to help with expenses. She worked as a governess, a seamstress, a laundress, and a nurse but, at heart, she was always a writer. Her work ranged from gentle children's stories to torrid romances; her first book, published at the age of 23, was a collection of stories for Ralph Waldo Emerson's daughter, who was a friend and neighbor. (Other neighbors in Concord, Massachusetts, included Henry David Thoreau and Nathaniel Hawthorne.) Louisa's best known work is Little Women, which has never been out of print since it was first published in 1868; it has been translated into more than fifty languages.
Larry Schug:
This is a very nice poem; thanks, Jayne. I,likewise have a tea pot perking away on top of my wood stove; it has a long, black nose but it's not ugly. It singing voice is quite pleasant, actually.
Posted 12/13/2013 10:47 AM
dotief@comcast.net:
Love it!
Posted 12/13/2013 09:29 AM
Sherry:
What an incredibly sweet poem. Clever rhyming as well. Thanks Louisa and Jayne!
Posted 12/13/2013 08:10 AM