Pure autumn color bursts
under snow-white whipped cream.
Memories of Mama and family and noisy
people gathered to eat and laugh and casually
kindle the ties that bind
intensify as the aroma of sweet savory
nutmeg crowds the kitchen and my beloved
parents' house becomes a home again - 
in spite of the year's long
emptiness.
This poem first appeared in Boston Literary Magazine.
Used here with the author's permission.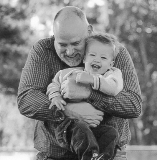 Danny Earl Simmons is an Oregonian and a proud graduate of Corvallis High School. He is a friend of the Linn-Benton Community College Poetry Club and his poems have appeared in a variety of journals.  Danny also enjoys community theater. Learn more about him at www.dannyearlsimmons.blogspot.com.
jeeger:
Nice!
Posted 11/28/2015 11:10 AM
Don Colburn:
Cheers, Dan! What is Thanksgiving if not houses becoming homes again? All best for your ongoing work (and, yes, thanks again for connecting me to community theater there. Don
Posted 11/28/2015 09:35 AM
Mary Lou Taylor:
Taking a look at line lengths, I thought some should be changed until i noted those first letters. Clever, Danny Earl Simmons.
Posted 11/26/2015 01:45 PM
KevinArnold:
Fun, and, with its bold first letters, crafty.
Posted 11/26/2015 11:39 AM
rhonasheridan:
One of my favorite American memories
Posted 11/26/2015 11:15 AM
transitions:
Thanks for sharing this...I miss my mom more every year
Posted 11/26/2015 10:03 AM
paradea:
Poignant and beautiful!
Posted 11/26/2015 09:06 AM
Cindy:
sweet memories
Posted 11/26/2015 08:27 AM