Last cottonwood leaves float on the creek
The lace tablecloth is laundered and folded
The arched turkey carcass boils in the soup pot
How lovely the sliced carrots, cadmium orange
Even the dog is full
The pumpkin out on the porch is starting to rot
I dial and dial everyone I love


From How I Became An Historian (Cherry Grove, 2014).
Used here with the authorís permission.
†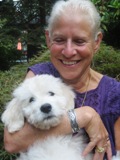 Penelope Scambly Schott has sold cosmetics, made doughnuts, written scripts, worked as a home health aide, posed as an artist's model, taught literature and creative writing, and written quite a few books.
She lives in Portland and Dufur, Oregon, where she teaches an annual poetry workshop. Learn more about Penelope at www.penelopescamblyschott.com.


Lori Levy:
Beautiful!
Posted 11/27/2015 02:57 PM
Larry Schug:
This poem is fine, indeed, but I'm perhaps more impressed with you biography. Good writing comes from living a life of various experiences to the fullest.
Posted 11/27/2015 10:54 AM
Cindy:
I love this one.
Posted 11/27/2015 09:11 AM
mimi:
captured perfectly!
Posted 11/27/2015 08:15 AM
phebe.davidson@gmail.com:
This catches that moment wonderfully!
Posted 11/27/2015 06:12 AM