Your shoes are land mines left in ambush.
Sand from the cuffs of your pants
shuffles all over the house.
You leave sticky drips on the kitchen floor,
cabinet doors wide open,
newspapers splayed by the side of the bed
and whiskers in the bathroom sink.

But today, I celebrate these daily gifts
because I watch the calendar pages
flip faster as each day goes by.
Today, I sing a hymn to this holy mess,
today, I bless the evidence of you.
© by Tere Sievers.
Used with the author's permission.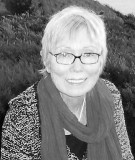 Tere Sievers, originally a Jersey Girl, now lives in Long Beach, California with her husband, Ron, and four chickens: Fifi, Betty, Mildred, and Hawk. She's the author of a children's book, Blueberry Pancakes and Monkey Pajamas, written to celebrate her grandchildren, and a poetry chapbook, Striking Distance, published by Arroyo Seco Press. Tere teaches at the Osher Lifelong Learning Institute at California State University, Long Beach.
barbara eknoian:
A sacred realization for couples to have. Love the poem.
Posted 02/21/2016 09:51 PM
Lori Levy:
Beautifully expressed.
Posted 02/08/2016 12:32 PM
Kathleen Carlson:
The nation remembered their blessings like these on the first 9/11. Kathleen
Posted 02/08/2016 11:37 AM
Kbc:
Oh yes. Doesn't the turning of those calendar pages brush off the little annoyances of daily life until they attain their own holiness? I so agree.
Posted 02/08/2016 11:16 AM
Mary Lou Taylor:
So honest. So true. Truly a reminder of living with a man and appreciating even his remainders.
Posted 02/08/2016 11:16 AM
Caro70:
Here's to all the holy messes that define life-long relationships. Well done, Tere!
Posted 02/08/2016 08:53 AM
Debbie@bereafriendshipum:
Love the poem just a reminder of the everyday problems we may face. Thanks so much! Time passes so quickly!
Posted 02/08/2016 08:33 AM
Jancan:
I love how this wonderful poem celebrates the little challenges of everyday life. Janice
Posted 02/08/2016 08:27 AM
JanetruthMartin:
fantastic reminder. thank-you!!
Posted 02/08/2016 06:15 AM