You and I?
We've gone all this distance
 in yardage, in years. And still our bed widens.
 
Consider,
distance is also a verb:
We distance ourselves from each other.
 
We grow apart.
A true contradiction:
Grow means to flourish. You and I diminish apart.
 
When did I write those words? A thousand years ago?
What continental divide once separated us?
When did we defy geography?
 
Today, just the thought of living without you
startles like the sight of a car crash,
jostles me awake at night.
 
The sidewalk narrows, I draw close,
Press my breast into your elbow
as we cross against the light.
© by Diana Anhalt.
Used with the author's permission.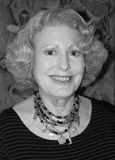 A former resident of Mexico City, Diana Anhalt moved to Atlanta, Georgia several years ago in order to be closer to family. A former high school teacher, editor, and civic leader, she is the author of A Gathering of Fugitives: American Political Expatriates in Mexico 1947-1965 (Archer Books), three chapbooks—Shiny Objects, Second Skin, and Lives of Straw—and numerous essays, short stories, and book reviews in both English and Spanish. Her most recent collection, Because There Is No Return, was released last summer from Passager Press (University of Baltimore).
diana.anhalt:
Would like to thank you all for your lovely comments. It always means a great deal. Diana
Posted 02/12/2016 11:19 AM
twinkscat:
Lovely poem, Diana! So nice meeting you in San Miguel. I am enjoying your chapbook.
Posted 02/11/2016 05:49 PM
cbmasem:
You nailed it! Really catches the meaning of being married 45 years as I have been.
Posted 02/11/2016 11:36 AM
Lori Levy:
Beautiful poem, especially the last stanza.
Posted 02/11/2016 10:19 AM
rnordstrom:
lovely, lovely poem
Posted 02/11/2016 08:44 AM
rhonasheridan:
Such a good poem.
Posted 02/11/2016 05:06 AM