Just the stuff
of everyday.
Weather, and
"How are you?"
with the store clerk.
Stopping a stranger
to pat her dog, and
asking its name.
Talking about the new
job or grandchild with
an acquaintance at a
party, in a store.

The everyday conversation
between couples that binds
them, keeps them together
when the fire of love
seems to have lost a bit of glow.
Just knowing that sharing
the everyday, the easily forgotten,
keeps a heart warm.
†
© by Robert Manchester.
Used with the authorís permission.
†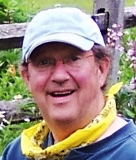 Robert Manchester (1943 - 2022) was born and raised in New Hampshire, surrounded by leafy trees, stone walls, and memories of Robert Frost, Jane Kenyon, Donald Hall, and Richard Eberhardt. He wrote and published poems for 50+ years, admitting that he much preferred writing to submitting, although his work appeared in print frequently. Robert especially enjoyed writing "edgy" poems, he said, about "the underbelly of life--the junk cars, tumbledown trailers, goat pens in the front yard, and the like." In addition to being a poet, he was a lifelong gardener and devoted volunteer at many charitable, educational, and public organizations.
Dorcas:
Lovely. I agree.
Posted 02/13/2016 08:49 AM
Kbc:
And the warmth spreads out to others as well.
Posted 02/12/2016 10:55 AM
Lori Levy:
Love the ending. This poem makes my "heart warm."
Posted 02/12/2016 10:44 AM
rtaylor947@aol.com:
Wonderful poem, Bob!
Posted 02/12/2016 10:11 AM
transitions:
Yes...lots more 'small talk' than anything else, keeps us going. Nice poem ~
Posted 02/12/2016 10:07 AM
JanetruthMartin:
wonderful.
Posted 02/12/2016 10:00 AM
hujsaked@aol.com:
Simple observations, well penned. Nice poem, Robert.
Posted 02/12/2016 08:56 AM
Jancan:
Sweet poem about the joy of everyday living! Janice
Posted 02/12/2016 08:53 AM
SAR2126:
Lovely.
Posted 02/12/2016 08:41 AM
phebe.davidson@gmail.com:
One of the best tributes to I've seen to the everyday that keeps us all going.
Posted 02/12/2016 05:25 AM
rhonasheridan:
So true. A delightful poem.
Posted 02/12/2016 04:50 AM