is that in a cold rain
you go to the garden,
though hardly a garden at the end of October,
pick an armful of hardy swiss chard and spinach
to use in your exquisite lasagna,
the yellow dog that eats tomatoes off the vine in June,
ever hopeful, trailing you down the garden aisles
though the tomatoes are long gone,
preserved in glass jars and freezer bags.
Heís looking and smelling for something
that is no longer there,
though perhaps seeing tomatoes in his canine mind,
much the way one of us
will, one day, be searching for the other,
so real in memory, but merely the image
people see when they close their eyes.
Behind my closed eyelids I will see our garden in bloom,
buzzing with bees, painted lady butterflies
flitting between black eyed susans and Mexican sunflowers,
the two of us, together.

© by Larry Schug.
Used with the authorís permission.
†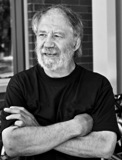 Larry Schug is retired after a life of various kinds of physical labor and currently occupies his time by volunteering as a writing tutor at the College of St. Benedict/St. John's University writing centers and as a naturalist at Outdoor U. He's also learning to play a cigar box guitar and is branching into putting music to words. Larry has published eight books of poems and lives with his wife, dog, and two cats near a large tamarack bog in St. Wendel Township, Minnesota.
mary lou taylor:
So tender. I don't often tear up, but for this poem I did. Beautiful images.
Posted 07/23/2018 03:30 PM
Larry Schug:
Thank you all for the kind words. Poetry is just one person communicating or,perhaps being in communion with another. I am honored to be in communion with all of you.
Posted 07/22/2018 09:07 PM
Jo:
Many of us, if not most, look for something that is not there but a memory we can dwell in-The image of walking into the garden in the cold rain is arresting. Loved this poem, Larry.
Posted 07/22/2018 07:40 PM
Lori Levy:
I like the image of going into the garden in a cold rain--and everything that follows!
Posted 07/22/2018 02:40 PM
Sharon Waller Knutson:
Larry, I love this poem and the description of not only the garden but everlasting love. My favorite line is: Behind my closed eyelids I will see our garden in bloom, buzzing with bees, painted lady butterflies flitting between black eyed susans and Mexican sunflowers, the two of us, together.
Posted 07/22/2018 01:57 PM
Janet Leahy:
How often we "look for something that is no longer there," Your poems rich on so many levels, thank you Larry.
Posted 07/22/2018 12:55 PM
Glen Sorestad:
An exquisite touch, Larry. You started my day on a very high note. Many thanks.
Posted 07/22/2018 12:50 PM
KARENAKV:
After reading this poem through slowly three times, the tears began to flow as I grasped what the author was saying. A beautiful poem. I was right there in the garden with him.
Posted 07/22/2018 12:42 PM
wendy morton:
This poem of memory, blooming.
Posted 07/22/2018 12:42 PM
rhonasheridan:
I like this memory very much
Posted 07/22/2018 12:17 PM
cork:
Oh,the power of memory! Your metaphor shouts at me.
Posted 07/22/2018 10:36 AM