how can I tell him that every day I see her
smiling in her coral blouse, matching lipstick and her sunglasses,
sitting al fresco at our favorite Milwaukee cafe
while she orders her usual grilled cheese with avocado and tomato
with a side of pilaf she always wants
me to share and I say thatís okay Mom, thanks,
my garden salad is enough, which I canít wait to finish
so that we may receive what she and I really came for,
what we have come here for every summer for so long
I canít tell you when it began, here comes our waitress,
balancing two plates of blueberry pie plump and crustless,
they look like sapphires glistening in sun
beside hills of newly whipped cream, glory of the season,
of the light that does not die, of my beautiful summer mother.†

From Arrows of Light (Iris Press, 2017)
Used with the authorís permission.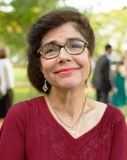 Andrea Potos is a longtime independent bookseller and the author of numerous books. She loves to travel and garners much inspiration that way. Her Greek grandparents and their spirit have been an abiding presence and inspiration throughout Andrea's life and poetry. A resident of Madison, Wisconsin, she writes in longhand, and lives for cafes.
Lori Levy:
I especially like the blueberry pie lines--"what she and I really came for."
Posted 07/23/2018 05:30 PM
barbsteff:
summer mother -- wonderful echoing vowel sounds!
Posted 07/23/2018 02:11 PM
Jean Colonomos-1:
Jean I love the way you enter this poem as if you're in the middle of a thought conversation
Posted 07/23/2018 12:09 PM
wordartdjc:
Yes, this poem moved me in a way difficult to describe. It made us all remember "mama".
Posted 07/23/2018 10:29 AM
Jancan:
Thank God for the ability to REMEMBER! Beautiful poem! Jancan
Posted 07/23/2018 09:36 AM
Sharon Waller Knutson:
Andrea, from the coral blouse and matching lipstick to the blueberry pie and whipped cream, you've drawn a beautiful portrait of a sweet mother daughter relationship that reminds me of the closeness I had with my mother. May every day be Mother's Day in our memories.
Posted 07/23/2018 08:15 AM
Charly:
Tender poem that speaks to me in beautiful images, thank you!
Posted 07/23/2018 08:04 AM
Gilbert Allen:
A lovely, tender poem.
Posted 07/23/2018 07:58 AM
Larry Schug:
The truth of this poem , for me at least, is in the line "the light that does not die". And, of course, the poem is about my mother, too. all our mothers.
Posted 07/23/2018 07:46 AM
Michael:
What is left to us if not our memories? This poem is so heartfelt. Thank you, Andrea.
Posted 07/23/2018 07:23 AM