Bird of the slow waddle,
belly full of 10,000 seeds,
head pecking faster than
a sewing machine.

Sleek, feathered gourd
wading through waves of grass
in no hurry to go anywhere
but where to eat grains.

Wide-eyed, startled one
astonished by everything,
cooing as it briskly paddles
wings against gravity

struggling to lift the feathered
weight of its pear shape
even a short distance to safety
then cushion its descent.

Bird of the shoddy nest,
flimsy stick-work, eggs peeking
out underneath, too busy
brood-making to make neat.

Buddha's belly. Noah's
olive branch. Muhammad's
confidant. Aladdin's lamp
with wishes for wings.

Paltry sacrifice at the altar
of voracious gods in ancient times;
meager meal on the table, still today,
of the even-hungrier poor.

Most doleful mourning dove
at rest on a branch
or telephone wire
contemplating the wall of air.

© by John Smith.
Used with the author's permission.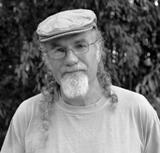 John Smith is a retired high school English teacher from xx whose work has appeared in numerous journals and anthologies, including Double Kiss: Stories, Poems & Essays on the Art of Billiards and Under a Gull's Wing: Poems and Photographs of the Jersey Shore. His poems are also included in two books, The Lure of Sea Glass and Pete Dunne's New Jersey. John's poem, "Lived Like a Saint" was set to music by composer Tina Davidson for the choral work, Listening to the Earth, and another poem, "Birding," was commissioned by New Jersey Audubon for their centennial. In addition to poetry, John enjoys cooking, gardening, and keeping an eye on the birds.
DavidTookey:
Well done!
Posted 07/24/2018 08:46 PM
Jo:
Really enjoyed your poem so full of detail, the images are just wonderful.
Posted 07/24/2018 08:35 PM
wordartdjc:
Such a lovely poem. It is one I want to read over and over again. Thank you, John, for your very incisive view of this wonderful bird.
Posted 07/24/2018 12:07 PM
Michael:
Wonderful portrait, John. Thank you.
Posted 07/24/2018 10:17 AM
Larry Schug:
One magnificent verse follows another in this poem, a delight to a fellow birder. The poem is also skillfully ended, which seems like a difficult task to me--well done.
Posted 07/24/2018 07:59 AM
Charly:
This is a perfect mourning dove poem.....once outside my kitchen window on a winter evening, I counted 27 ground feeding beneath the feeder. A gorgeous sight as the setting sun made rosy of their breasts.
Posted 07/24/2018 07:49 AM
plgoodman:
Love it John. Your images and metaphors are very insightful. Thank you.
Posted 07/24/2018 07:44 AM