The blossom petals
yesterday fell individually
onto the table where I sat,
onto the collar of my blouse,
each fell alone though they had,
together, formed the mandala
that welcomed the bee. Bee
belonging to a hive yet there
solo in the core of the single
flower. For the sake of the whole.

How much nectar does the bee
sip for itself? To stay
alive to make its rounds
to help the hive thrive,
thrumming hum many bodies
make together, all the small
hexagonal holes stuck to one
another. Home, hive, colony,
close, tight, life.

© by Grace Marie Grafton.
Used with the authorís permission.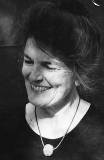 Grace Marie Grafton has taught young students in grades 1-5 to appreciate and write poetry for more than thirty years, as a poet and teacher active in the California Poets In the Schools organization. Her goal has been to support and develop the natural fascination with language of the young child and to encourage what she believes is an inborn love of poetry before it's "rationalized" out of most of us by about nine years of age. Grace's own poems have appeared in hundreds of literary magazines, and she is the author of six books of poems, the most recent being LENS. Her inspiration springs from nature, art and the poetry of others. Raised in California's Central Valley, Grace now lives in the San Francisco Bay Area with her husband and extended family. From her windows, she regularly sees deer, squirrels, woodpeckers, ravens and wild turkeys. Learn more about Grace at https://gracegrafton.wixsite.com/poems.
Lori Levy:
I like the contrasts between alone and together, the parts and the whole. Beautiful image of the petals falling.
Posted 07/25/2018 01:21 PM
Michael:
Love the assonance in this poem, every word contributing to the whole reading experience. I'm taking notes. Thank you.
Posted 07/25/2018 11:05 AM
KevinArnold:
I love the question "How much nectar does the bee sip for itself?" 🐝
Posted 07/25/2018 09:31 AM
Larry Schug:
A well thought-out poem skillfully written which contains an important message in a beautiful image with magnificent words.
Posted 07/25/2018 08:47 AM
Charly:
Beautiful, took my breath away. Thank you....
Posted 07/25/2018 08:12 AM