Do not wet this garment.
But if you insist,
Use water between 35 and 37 degrees Celsius.
Approximately.
Test with your elbow.
Perhaps you had better just wave the dress above the water.
You still want to wet it?
Fine.
You may hand-wash, but be careful.
For best results, use soap made from the milk of goats
That have roamed the slopes of the Himalayas.
In a pinch, other soap will do.
Do not wring.
Pat gently with a lint-free cloth,
Apologising profusely.
Lay flat in shade, preferably on deck chair with a nice drink.
I meant the dress, of course.
But … maybe you, too.


© by Belinda Veldman.
Used with the author's permission.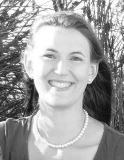 Belinda Veldman stays busy being a wife and mother in Perth, Western Australia. A former English teacher, she admits she can't seem to stay away from books, even though she doesn't really have time for them at present. Subscribing to YDP (and, occasionally, writing) is Belinda's attempt to keep a literary link in her life.
barbsteff:
So funny! Marvelous parody!
Posted 08/13/2018 04:22 PM
antoinette:
Thanks for the laugh, well done.
Posted 08/13/2018 01:25 PM
Rosem:
A very charming ending.
Posted 08/12/2018 10:24 PM
Jancan:
Just what I needed--a good belly laugh! Jancan
Posted 08/11/2018 06:06 PM
Lori Levy:
Love the humor in this poem.
Posted 08/10/2018 09:08 PM
Sharon Waller Knutson:
I love this poem. So charming and delightful.
Posted 08/10/2018 11:52 AM
Jean Colonomos-1:
Fun.
Posted 08/10/2018 09:36 AM
plgoodman:
Very refreshing play on the ubiquitous directions that rule our lives. I enjoyed this.
Posted 08/10/2018 08:10 AM
wordartdjc:
A new slant on the fine garment! Cute.
Posted 08/10/2018 07:54 AM
rhonasheridan:
This made me laugh and laugh!
Posted 08/10/2018 05:21 AM