I think he takes his socks off
all over the countryside.
Every week another one of a pair
disappears, unaccounted for,
gone AWOL or M.I.A.

I don't buy his "Missing Sock Theory"
– the wash-machine eats them up –
or the notion that hungry gremlins
slink into the hamper
and feast on its fetid tenants.
 
Haunted by the sobs 
of their deserted sock mates
– with hope that some of the prodigals
will find their way home –
I keep adding the abandoned partners
to a rubber-banded bunch in his drawer.                   

So far, the bundle just gets bigger.


© by Patricia Williams.
Used with the author's permission.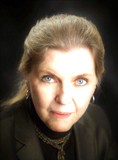 Patricia Williams grew up in the Chicago area, taught Cultural Design and Design History at the University of Wisconsin – Stevens Point for 27 years, and began writing poetry in 2013 after she retired. She is the author of a chapbook, The Port Side of Shadows: Poems of Travel – Inner, Outer and Uncharted Places (Finishing Line Press, 2017) and a full collection, Midwest Medley: Places & People, Wild Things & Weather (Kelsey Books /Aldrich Press, 2018). Patricia and her husband live in rural Wisconsin among the squirrels, deer and black bear, eight miles from a village of 1300 and 25 miles from any place larger. She is currently at work on a poetry book about women.
Jancan:
Yes, what DOES happen to those socks? I have so many mateless ones! Love this poem! Jaanice
Posted 01/09/2019 11:08 AM
cork:
Tell your husband that unmatched socks are now in style and begin making new pairs.
Posted 01/07/2019 08:12 AM