The cardinals
that streak by the window
and vanish into the trees
donít see how fine
their colors are, donít care
that their beaks are also red,
that even their women
are more full of color
than the other birds
of the land. They chatter
among the red-budded maples
as though their beauty
were no different from that
of a common sparrow.
They swoop across the road
and leave behind a bright
blessing of red that vibrates
for a moment above
the ice-edged asphalt.


© by Tamara Madison.
Used with the authorís permission.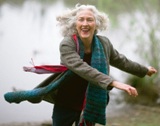 Tamara Madison is the author of the chapbook, The Belly Remembers, and two full-length volumes of poetry, Wild Domestic and Moraine, all published by Pearl Editions. She is a dog lover, a swimmer, and a native Californian who has lived in many different places in the U.S. and abroad. Tamara is thrilled to have recently retired from teaching English and French in a Los Angeles high school, and still more thrilled to have recently become a grandmother.
Jeri Thompson:
So visual. I wish I knew more about birds and nature in general. Will depend upon your poetry for that.
Posted 12/14/2019 01:39 AM
Dorothy WildhagenD:
Contemplating a cardinal. I just painted one in watercolor and gave it to a friend as a wedding present.
Posted 01/08/2019 06:29 PM
wendy morton:
Oh, what a lovely red poem.
Posted 01/08/2019 12:16 PM
Michael:
The cardinal is Illinois' state bird and even though they are common as sparrows, I never get tired of looking at them. Wonderful poem honoring the best of the best. Thank you.
Posted 01/08/2019 10:40 AM
bersone:
Wonderfully spare homage to a beautiful bird and the spirit it uplifted and, through the poem, many others, including me!
Posted 01/08/2019 10:38 AM
KevinArnold:
What fun and, parenthetically, the ideal shape for this cell phone. I love the notion that the birds' beauty is probably lost on them, while part of me wants them to know.
Posted 01/08/2019 10:36 AM
DavidTookey:
A wonderful tonic for the darkness of winter!
Posted 01/08/2019 09:38 AM
Janet Leahy:
In Wisconsin, cardinals on a snowy tree branch are as your poem says "a bright blessing of red." Thank you Tamara.
Posted 01/08/2019 08:53 AM
wordartdjc:
Yes, they are beautiful and my State's bird!
Posted 01/08/2019 08:01 AM