There are five blue jays on the feeder tray
this morning; they flare and sputter
like flames in a grate, a skillet of sapphires—
They've chased away the drabber birds,
chickadees, titmice, white-throated sparrows,
want all the oily seeds for themselves.
Think more is more.  Even the agile squirrels
aren't brazen enough to take this heat.
And the jays jeer, as they corner the market:
mine  mine  mine


This poem first appeared in Tiferet.
Used here with the author's permission.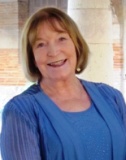 Barbara Crooker's award-winning poems have appeared in numerous magazines, journals, and anthologies and have been featured on the BBC, the ABC (Australian Broadcasting Company), The Writer's Almanac, and in the Poetry at Noon series at the Library of Congress. Recipient of many fellowships and residencies in the U.S., as well as in Ireland and France, she was also a Grammy finalist for her part in the audio version of the popular anthology, Grow Old Along with Me--the Best is Yet to Be. Barbara lives in Fogelsville, Pennsylvania; read more about her at www.barbaracrooker.com.
Lori Levy:
Love the details in this poem.
Posted 01/22/2019 02:12 PM
wordartdjc:
Not a bird feeder but this is a sweet poem of a bird lover, one can tell.
Posted 01/22/2019 12:48 PM
Michael:
Delightful Barbara-- so true as one observes the bird-feeder, although I've yet to see the squirrel yield to any interest other than his own!
Posted 01/22/2019 12:27 PM
wendy morton:
A sapphire of a poem.
Posted 01/22/2019 11:48 AM
KevinArnold:
I thought we didn?t share political poems. He he.
Posted 01/22/2019 08:51 AM
cork:
A party of jays.
Posted 01/22/2019 08:31 AM
plgoodman:
A skillet of sapphires. Yes!!
Posted 01/22/2019 07:57 AM