In between the rocks
A wedge of ice
Has been forced;
Jewels of water
Wet nothing now.


This poem is in the public domain.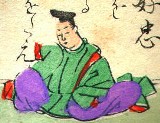 Sone No Yoshitada (approximately 930 - 1010 A.D.), who lived in Japan, was a government employee who became interested in poetry late in life. Though his work was not highly regarded at the time, it gained both popularity and respect after his death, was proclaimed as "ahead of its time," and was even anthologized in several imperial collections.
KevinArnold:
I love the way, using the title and first line, the poem sits on solid rock long before approaching the water imagery.
Posted 01/23/2019 07:02 PM
cork:
And we can walk on water when it is frozen.
Posted 01/23/2019 08:51 AM
wordartdjc:
I happen to love the ancient poetry of Japan and China. This is a perfect example of controlled thought. Try one!
Posted 01/23/2019 08:13 AM