The night is darkening round me,
The wild winds coldly blow;
But a tyrant spell has bound me
And I cannot, cannot go.

The giant trees are bending
Their bare boughs weighed with snow,
And the storm is fast descending
And yet I cannot go.

Clouds beyond clouds above me,
Wastes beyond wastes below;
But nothing drear can move me;
I will not, cannot go.


This poem is in the public domain.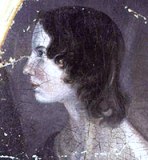 Emily Bronte (1818-1848) was an English writer best known for her only novel, Wuthering Heights. One of six children born to Patrick and Maria Bronte, Emily's love of words and gift of writing were hereditaryL her father, though a minister by profession, also published several books and wrote for newspapers, and her mother was an ardent poetry fan. All the Bronte siblings were writers in their own right, though critics generally concede that Emily was the most accomplished. Though Wuthering Heights received only middling reviews during her lifetime (sister Charlotte's Jane Eyre was far more successful), over time, the book has come to be revered and respected as a classic. Emily died of tuberculosis at the age of thirty, barely having begun to explore her literary potential.
cork:
We often choose to remain where we are when the outside environment is forbidding.
Posted 01/24/2019 08:47 AM
wordartdjc:
Afraid, unhappy and sad, I feel Emily was a soul in distress. What a sad truth that she had only thirty years to use that intelligent mind.
Posted 01/24/2019 08:08 AM