Clouds float across the sky,
a gentle breeze moves the leaves,
and the sun shines down
evoking memories of summers past
when days were long and busy
with dogs and horses, barns and tractors.

Life was full, and we were young.
We thought we had it all,
but thatís behind us in a different time.
Today our lives are slow and quiet,
and the dearest thing
I have left to share with you is now.


© by Bob Kimberly.
Used here with the authorís permission.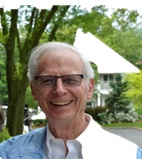 Bob Kimberly started writing poetry fifteen years ago after he retired and sold his horse farm, where he and his wife, Nancy, bred and boarded riding horses for nearly 30 years. To keep busy, he joined a creating writing class for senior adults, and discovered there that he enjoyed writing poetry. Bob has published a number of chapbooks, mostly for his family and close friends, and has also had a few poems published in newsletters and calendars. He lives in Bellevue, Washington.
Jancan:
This is lovely, especially the end lines. Janice
Posted 02/07/2019 09:17 PM
Jo:
beautiful poem and so from the heart.
Posted 02/05/2019 08:36 PM
Lori Levy:
Beautifully expressed.
Posted 02/05/2019 01:40 PM
wordartdjc:
This is such a gentle story of the unending love of two persons. So beautiful.
Posted 02/05/2019 10:52 AM
Jean Colonomos-1:
So lovely and romantic.
Posted 02/05/2019 10:46 AM
KevinArnold:
What a precious poem! ?But that?s behind us in a different time? is so elegantly understated.
Posted 02/05/2019 10:11 AM
michael escoubas:
Simplicity and clarity: hallmarks of excellent poetry. Thank you Bob!
Posted 02/05/2019 07:34 AM
Larry Schug:
Now is all we really have. Well said.
Posted 02/05/2019 07:09 AM
vscholtz:
I'm reading "Now" when the Wisconsin weather is blustery and the early spring predictions of the local ground hog promise to disappoint. And yet, your poem is so true. The dearest thing is now. Beautifully done.
Posted 02/05/2019 07:00 AM