The silence woke me up,
So much quieter than usual.
Like a muffling blanket
Has been thrown over my roof.

Those little vibrating
sound waves
Are having trouble reaching my ears.
Winter's pesky white flakes
Are getting in the way.
The land is still and quiet.

"Hush!" said Mother Nature,
And the Earth obeyed.


© by Julie Creighton.
Used with the author's permission.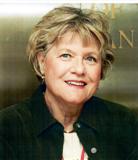 Julie Creighton is retired and lives with her husband of 50 years on a ranch in central Texas. Although she has always enjoyed reading, Julie's appreciation for poetry really developed late in life. She began writing poetry after a girls' trip where the theme was to bring and share favorite poems. At the end of the weekend,  each wrote an original poem to share with the group. Julie enjoyed this new experience so much that she has begun sharing her experiences and thoughts through poetry. Your Daily Poem has moved her to want to share her poems.
Marie Denniston:
Lovely poem , Julie, it brings back childhood memories. Marie Denniston
Posted 02/17/2020 05:52 PM
Tracers645:
Wonderfully written! Ms. Creighton really captured the sensation!
Posted 02/17/2020 05:07 PM
Lori Levy:
Love the first line: "The silence woke me up."
Posted 02/15/2020 02:51 PM
Jean Colonomos-1:
At the risk of making noise, a lovely poem.
Posted 02/15/2020 12:35 PM
cork:
Snow has its own special silence.
Posted 02/15/2020 10:35 AM
Wilda Morris:
Beautiful - and timely! Everything here is covered in white.
Posted 02/15/2020 10:31 AM
Janet Leahy:
Love the "hush of Mother Nature," snow does quiet our world until the plows perform.
Posted 02/15/2020 09:33 AM
Larry Schug:
There are lines in this poem that I'm tempted to steal--but, I won't! The more times I read this, the more I get from it.
Posted 02/15/2020 07:31 AM