Previous

Social Contact on the Morning Stroll
by
Joe Cottonwood


Next
Forget-me-nots
never blinking
dare to stare

Minerís lettuce says
Letís do lunch

Bay leaf stirs
for soup

Columbine dangles
a delicate kiss

Milkmaids wiggle
white bottoms

Monkey flower laughs
tongue waggling

Maidenhair fern
blushes, shy

Poppies shout
Weíre here! And here!

Redwood endures
bending with breeze


© by Joe Cottonwood.
Used here with the authorís permission.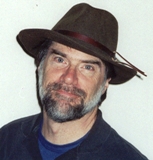 Joe Cottonwood is a semi-retired contractor with a lifetime of small jobs repairing homes. He lives with his high school sweetheart under redwoods in the Santa Cruz Mountains of California caring for curly-haired dogs and straight-haired grandchildren. His latest book is Foggy Dog: Poems of the Pacific Coast. Learn more at www.joecottonwood.com.
Robert Walton:
Poppies do indeed shout. Great work, Joe!
Posted 05/12/2020 11:53 AM
Lori Levy:
Love the way the flowers/plants are portrayed.
Posted 05/12/2020 01:42 AM
DavidTookey:
Good one!
Posted 05/11/2020 10:01 AM
Larry Schug:
A nice walk for my spirit before I venture out with the dog for my body's walk.
Posted 05/11/2020 07:23 AM
mail@schoolbusmart.com:
Hail, hail, the gang's all here. Fun, tight and crispy piece. Randy.
Posted 05/11/2020 07:03 AM
Contents of this web site and all original text and images therein are copyright © by Your Daily Poem. All rights reserved.
As an Amazon Associate I earn from qualifying purchases. Purchasing books through any poet's Amazon links helps to support Your Daily Poem.
The material on this site may not be copied, reproduced, downloaded, distributed, transmitted, stored, altered, adapted,
or otherwise used in any way without the express written permission of the owner.