you hold   (your own place)
nettles, scotch thistle, dame's rocket, chickweed
wild lettuce, blue clouds of forget-me-not
unkempt
at the back of the garden
 
sun stencils sumac, warm smells
of lilac, dark shade under maples
one toad
 
dig, dig in deep, in this life
world peace
will not come, regardless
your trowel, careful
 
furrows the small
mirror shimmer of raindrops
while a frond of green fern
unordered
uncared for
uncurls
out of earth.
 
 
This poem first appeared in The Northern Appeal (Issue 6, 2019).
Used here with permission.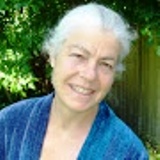 Susan Wismer likes to go for long walks, write poetry, then walk some more. Within her family, which is broadly defined, she says she is famous for eclectic (and occasionally unpalatable) vegetarian cookery and her sense of humor, passed down from her mother.  Susan lives on Anishinaabe territory at Georgian Bay, in Ontario.
Lori Levy:
Beautiful picture of a garden.
Posted 05/16/2020 05:37 PM
Anastasia:
A moment of quiet in a chaotic world. Thank you!
Posted 05/16/2020 03:21 PM
BAMars:
I agree with the other comments. The structure is so interesting and this poem definitely has its own rhythm. The density of the first stanza and its abundance of growth, and the rest unfurlng like the fern.
Posted 05/16/2020 12:37 PM
jeeger:
I love this!
Posted 05/16/2020 12:03 PM
KevinArnold:
Yes, a good reminder that free verse gets to build its own rules, and live by them. Well crafted.
Posted 05/16/2020 11:46 AM
michael escoubas:
Form and poetry-message are insep-arable. Like the irregular use of line endings to illustrate visually an important truth. Quite well done, Susan.
Posted 05/16/2020 08:51 AM