For more than a month now
I have not touched anyone

have not patted a shoulder
have not kissed a cheek
have not shaken a hand

they say Iím saving lives
as a gaping hole grows in mine

one night I search the back room
and find--aha!--a teddy bear
left behind by now grown children

I bring him to my bed
clutching him close
as a wrestler pins an opponent

when this is over,
I will touch everyone I know
I will hug deeply


© by Kelly Murphy Moreton..
Used with the authorís permission.
†
†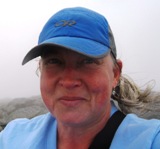 Kelly Murphy Moreton says she has lived in many places, but Vermont is the first place she ever wanted to call home. She writes poetry as ďa means of maintaining creative expressionĒ in her life; growing flowers and cooking beautiful meals are other ways in which she explores creativity.
†
†
Jo:
Missing the hugs as well. That?s the hardest part. Thank you for writing about it.
Posted 05/19/2020 10:27 PM
Lori Levy:
Beautifully expressed. By the way,Kelly, Vermont has also been "home" to me. I grew up there.
Posted 05/18/2020 02:37 PM
Wilda Morris:
I'm missing those hugs, too. Thank you for expressing it so well.
Posted 05/18/2020 12:20 PM
tugglejc50:
Dear Kelly, I recommend a visit to the local animal shelter. The cats and dogs there are always needing homes and the shelter will need foster homes if you cannot make a long term commitment. With all my immediate family far away, my cats are a lifeline.
Posted 05/18/2020 11:59 AM
Jean Colonomos-1:
This poem evokes such longing for my family in another state. The teddy bear's good idea.
Posted 05/18/2020 10:11 AM
mableione:
Beautiful and simple
Posted 05/18/2020 09:16 AM
cork:
I am going right out to buy myself a teddy bear.
Posted 05/18/2020 09:06 AM
michael escoubas:
Great poem, Kelly, as it captures the "truth" of our times simply, powerfully.
Posted 05/18/2020 08:48 AM
mail@schoolbusmart.com:
Nice expression of how we all feel. We all want out Teddy Bears and Teddy Bear hugs back. Air hugs bring a smile but do not replace the joy and intimacy of physical holding. Thank you, Randy
Posted 05/18/2020 07:41 AM
Larry Schug:
Kelly, please accept a virtual hug from a stranger (me), who also misses even a good old high five. My dog and cats are profiting from the benefits of limited human to human contact. I find this poem inspirational a little says so much.
Posted 05/18/2020 07:37 AM