He looks a little like me—
long hair and a scraggly beard.
We lock eyes for a moment
at a red light, until...
across space and through glass,
he flashes a peace sign,
and I return the gesture.

We look away, then.
The light turns green
and we both drive off
to separate destinations.

I'll probably never see
this man again.

I smile, and wonder if
he's smiling too, as the
moment of peace swells
with the distance between us.


© by Brian Rihlmann.
Used with the author's permission.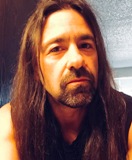 Brian Rihlmann was born in New Jersey but now lives in Reno, Nevada. Author of one poetry collection, Ordinary Trauma (Alien Buddha Press, 2019), he enjoys playing his guitar and exploring the mountains near where he lives. Learn more about Brian at
https://allpoetry.com/Brian_Rihlmann or https://www.facebook.com/brian.rihlmann.
Lori Levy:
Beautifully expressed. Reminds me of a poem I once wrote about a similar moment.
Posted 05/19/2020 02:37 PM
CamilleBalla:
Beautiful. Seeing ourselves in others without even a spoken word reflects our own peace and compassion,
Posted 05/19/2020 02:00 PM
Maren O. Mitchell:
Good poem, Brian. Two thumbs up!
Posted 05/19/2020 01:12 PM
joecot:
Yep. Peace, brother poet.
Posted 05/19/2020 12:33 PM
DavidTookey:
Wonderful poem. Thanks Brian!
Posted 05/19/2020 11:02 AM
cscoville:
This poem reminded me to acknowledge everyone's humanity. We're all just trying to get through the day.
Posted 05/19/2020 10:12 AM
paradea:
Nice poem!!!
Posted 05/19/2020 09:27 AM
Ronaccount:
This lovely little poem is confirmation that Shakespeare got it right.
Posted 05/19/2020 09:24 AM
michael escoubas:
Nicely done, Brian. The smallest things (seemingly small, that is) make the best poems.
Posted 05/19/2020 09:22 AM
cork:
In Wyoming, we usually give a friendly wave to oncoming drivers. The peace sign is good.
Posted 05/19/2020 09:06 AM
Sharon Waller Knutson:
I love this poem because of its simplicity and truth and I can relate to it. We live on a dirt road and every time we pass a vehicle we wave and smile and feel better because of it.
Posted 05/19/2020 08:05 AM
Larry Schug:
I had a similar experience the other day. It always amazes me how these little moments can loom large enough for poetry.
Posted 05/19/2020 07:32 AM