You are a fixture in the living roomó
man reading medical journaló
while the TV stands silent in the den.
But you know itís not the texts
that make you a good doctor;
itís AÔda and Madama Butterfly,
Dannie Abse and William Carlos Williams;
itís the winter walk in the desert
with your wife and children
and red anemones.
Itís the words you choose,
the way you dangle them, sparkling,
before the eyes
of a dying patient,
an aspiring medical student,
or meóyour daughter.


This poem first appeared on the "Ad Libitum" page of
Annals of Internal Medicine.
Used here with permission.
†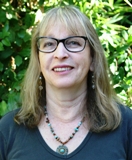 Lori Levy's poems have appeared in numerous literary journals, anthologies, and medical humanities journals in the U.S., England, and Israel. Her four grandchildren, all nearby in Los Angeles, keep her entertained, on her toes and, occasionally, inspire poems. Lori would like to thank her father, whose way of being has been an inspiration to her and to so many others whose lives he has touched.
†
†
Wilda Morris:
Beautiful Your father sounds like the kind of father any girl would love to have.
Posted 06/21/2020 11:17 AM
Lori Levy:
Thank you all for your encouraging comments.
Posted 06/18/2020 12:31 AM
Arlene Gay Levine:
Your well chosen words describe what sounds like a truly loving man in this moving poem.
Posted 06/17/2020 04:59 PM
jmilfordtv:
Your father, a doctor who loved opera and winter walks, what a beautiful poem description.
Posted 06/17/2020 01:44 PM
Anastasia:
This is wonderful and moving. Thank you for sharing it.
Posted 06/17/2020 01:42 PM
Jo:
I love this sensitive portrait of your father, a gentle, kind man who has touched my life through your words.
Posted 06/17/2020 12:40 PM
Tracers645:
Beautiful poem. I love the focus on the peaceful.
Posted 06/17/2020 12:38 PM
CamilleBalla:
Great, soft images of the person within the doctor. Insightful and well-crafted.
Posted 06/17/2020 11:23 AM
peggy.turnbull:
What an insightful poem. I'm grateful to read about this cultured, kind healer.
Posted 06/17/2020 10:19 AM
cork:
A true tribute.
Posted 06/17/2020 09:33 AM
Ronaccount:
Wonderful tribute poem and I loved physician/poet references.
Posted 06/17/2020 09:00 AM
michael escoubas:
How we appreciate, Lori, in our late years (if not at the time) the uplifting words and life-examples--gifts from our fathers. It is the same for me as well. Nicely done.
Posted 06/17/2020 08:36 AM
KevinArnold:
Fun. Paints a world.
Posted 06/17/2020 07:50 AM
Jean Colonomos-1:
Succinct and touching. Thank you.
Posted 06/17/2020 07:17 AM
Sharon Waller Knutson:
I love this beautiful Poem and loving tribute to your father, Lori. I am sure he is proud of you also.
Posted 06/17/2020 06:14 AM
Contents of this web site and all original text and images therein are copyright © by Your Daily Poem. All rights reserved.
As an Amazon Associate I earn from qualifying purchases. Purchasing books through any poet's Amazon links helps to support Your Daily Poem.
The material on this site may not be copied, reproduced, downloaded, distributed, transmitted, stored, altered, adapted,
or otherwise used in any way without the express written permission of the owner.