Out walking with my daughter
on our weekly dadís night
in the fading light of an early spring
we find ourselves along the river
when she wants me to see
the hidden spot where her friends meet
and though the meterís running
and darkness is falling
and I have places to be
I follow down a brambly path
and hold my words
about the twisted roots that threaten an ankle
the mossy rocks masking risky stumbles
the scattered lighters that litter the ground
because I know this place
had my own just like it, when I was her age
a woodsy refuge to get away and hide
and forget homework, heartache, responsibility.
Well, I survived.
In the twilight we edge along the concrete
that ends under a white-capped flow
and together, take in this suburban peace
me and my lovely daughter
who is finding her way
and led me here so I would know.


This poem first appeared in US 1 Worksheets.
Used here with permission.
†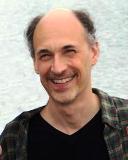 Eric Heller has been a teacher, technical writer, web designer, and marketing professional. His poems have appeared in US1 Worksheets, the Delaware Valley Poets anthology, Thatchwork, and others. Eric is currently a marketing director for a technology company in New Jersey, where he lives with his two daughters. Learn more about him at http://www.eric-heller.net.
†
Wilda Morris:
When our children are navigating "coming of age," it is a transition time for us parents, too. You show it beautifully.
Posted 06/21/2020 11:16 AM
Jo:
Wonderful poem Eric.
Posted 06/18/2020 09:21 PM
jim bourey:
Really good poem.
Posted 06/18/2020 08:07 PM
Lori Levy:
Beautiful, sensitive poem.
Posted 06/18/2020 03:45 PM
Anastasia:
What a lovely moment to capture! Thank you.
Posted 06/18/2020 03:28 PM
MLove:
She trusts you with her secret and you trust her with her life. I love this.
Posted 06/18/2020 01:30 PM
Cathyís Sister:
Thank you for such a heartwarming poem!
Posted 06/18/2020 09:20 AM
njc:
"...and hold my words..." A wise choice.
Posted 06/18/2020 09:15 AM
Sharon Waller Knutson:
I love this well crafted poem about a father daughter relationship. Perfect for father's day.
Posted 06/18/2020 08:28 AM
Larry Schug:
So much implied in three words "Well, I survived", which are, to me, are the heart of this poem.
Posted 06/18/2020 06:48 AM
jeeger:
This is just beautiful!
Posted 06/18/2020 06:46 AM