Dad never whined about life's
ups and downs or what chance dropped
on his plate—beef stew and beans
were as fine to him as T-bone steak.
Anyway, duty was always his main course.

Summer evenings after supper,
he'd ease into his favorite lawn chair
—webbing frayed, frame dented—
with hose in hand to water
his small domain of green.
Whippoorwills were his evensong,
and lightning bugs his signal
to come in and turn out the lights.


© by Diane Stone.
Used with the author's permission.
.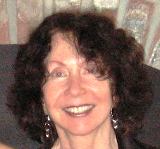 Diane Stone, a former technical writer-editor, lives on Whidbey Island, north of Seattle, Washington, with her husband, cat, and hens. Her work has been published in poetry journals and anthologies. Diane credits her grandfather for her early interest in poetry; he taught her that poetry happens everywhere, and he recited his favorite poems even when they were fishing.
Bobby:
Dad never whined... ...duty was always his main course. Rare qualities that sum up the man. Thanks, Diane
Posted 06/22/2020 06:14 AM
Wilda Morris:
Wonderful tribute to a father.
Posted 06/21/2020 11:13 AM
Jancan:
Lovely tribute to a father and his simple needs
Posted 06/21/2020 09:22 AM
barbsteff:
Sounds like how my father would have thought.
Posted 06/20/2020 04:19 PM
Janet Leahy:
Lovely memory for father's day. Lightning bugs are so special. Thanks Diane.
Posted 06/19/2020 09:23 PM
Lori Levy:
I agree that the last 3 lines are especially good in this simply expressed, but beautiful poem.
Posted 06/19/2020 02:55 PM
mail@schoolbusmart.com:
very nice, especially the last three lines ( I agree with Sharon below). Randy
Posted 06/19/2020 12:22 PM
michael escoubas:
This reads like one of your favorite moments, Diane. Nicely done. Poetry DOES happen everywhere!
Posted 06/19/2020 11:45 AM
Sharon Waller Knutson:
Loved the poem. My favorite line was: Whippoorwills were his evensong, and lightning bugs his signal to come in and turn out the lights.
Posted 06/19/2020 10:21 AM
paradea:
I can see him! Great poem!!
Posted 06/19/2020 09:27 AM
Larry Schug:
I like the picture of your father watering the lawn from the ragged chair.
Posted 06/19/2020 07:38 AM