Oh, for the ancient glow of it!
My first memories of music
focus not on instrument
or vinyl, violin or voice,
 
but rather upon air that seemed
giving birth to sound cadenced
by magic—part of the world I breathed
becoming a blessing unimagined
 
simply there, waiting to be
discovered, ears to hear, eyes
to see, a hearth whose history
came before any human house
 
or cabin, cave or campfire,
wings born and bearing my own being.


© by Gilbert Allen.
Used with the author's permission.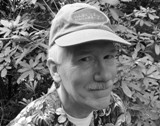 Gilbert Allen has lived in the South Carolina foothills since 1977. He and his wife, Barbara, enjoy gardening, poetry readings, and visiting with family and friends. Gil's most recent books are Catma (a collection of poems) and The Final Days of Great American Shopping (a collection of linked stories). Learn more about him at www.pw.org/content/gilbert_allen.
Wilda Morris:
This sonnet variation is so lyrical - which is appropriate to its subject! It is lovely.
Posted 06/21/2020 11:12 AM
Jancan:
Lovely tribute to music and its power in our lives
Posted 06/21/2020 09:21 AM
Lori Levy:
Great line about how your "first memories of music/focus not on instrument/ or vinyl, violin or voice."
Posted 06/20/2020 02:26 PM
Ronaccount:
The title works so well!
Posted 06/20/2020 09:51 AM
paradea:
Nice.
Posted 06/20/2020 09:05 AM
michael escoubas:
Nice non-traditional sonnet, Gill. Like your use of alliteration and the poem's overall musicality. Well done!
Posted 06/20/2020 08:28 AM
Sharon Waller Knutson:
This poem is both musical and magical. Love the alliteration.
Posted 06/20/2020 07:29 AM
KevinArnold:
Ah, yes, music.
Posted 06/20/2020 06:03 AM