No pumped-up, tasteless decorator
berries here, just this thin box
warped and stapled, heavy with its heap
of small fruit, radiantly red.
†
When I hand over a few bills
to the freckled girl stretching
her long legs toward me, I feel Iíve gotten
away with somethingó
†
Iím five again, Mother busy
inside with the baby, and Iíve made myself
scarce, stretched out on my belly
in our garden patch, sandy soil
†
warm as a body holding me. The house
with its sad smell of milk, diapers
soaking in a pailó itís off in the distance now,
nearly disappeared. Iím snaking my hand
†
into the ticklish leaves to pluck
a sun-warmed berry, popping
it into my mouth. And another. Another.
No waiting till later. I donít have to be
†
patient; I donít have to be good.
No bigger than the tip of my thumb,
sweet berries in their little green caps,
fragrant, beaded with tiny seedsó
†
Birds have picked some over already,
leaving, not holes exactly, but glimpses
of tender white bellies, unadorned.
When I touch the messy edge of one
†
it feels like a secret I shouldnít know.
My fingers are stained. I admire them,
lick them a little, feel tension
in the stem as I pull at another berry.
†
My teeth carry the flesh to my pleasured
tongue, and juice keeps the sweetness
going. The seedy nubs give just enough
resistance. Everything I want.


This poem first appeared in Long River Run.
Used here with permission.
†
†
†
†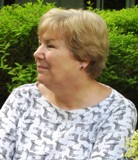 Ginny Lowe Connors is a retired English teacher in West Hartford, Connecticut. She has published several collections of poems, including Toward the Hanging Tree: Poems of Salem Village, and she has edited a number of poetry anthologies, such as Forgotten Women: A Tribute in Poetry. Ginny runs a small press, Grayson Books, and co-edits Connecticut River Review, a national poetry journal. Learn more about her at www.ginnyloweconnors.com.
Maren O. Mitchell:
Ginny, thank you for this gift of living memories. They live now for your readers.
Posted 07/09/2020 10:59 PM
Jo:
Don?t know what the question marks are about?ignore, please.
Posted 07/09/2020 10:40 PM
Jo:
What a marvelous poem?I?m right there with you, picking, tasting the sweetness in the juice, away from the ?sad smell of milk, diapers. Your details are so vivid and refreshing.
Posted 07/09/2020 10:39 PM
Lori Levy:
I agree with the others' comments!
Posted 07/09/2020 07:12 PM
Jancan:
Vividly descriptive and appealing
Posted 07/09/2020 04:06 PM
Tracers645:
You made me feel 5 again, too. Thank you for sharing!
Posted 07/09/2020 02:50 PM
CamilleBalla:
Washing, cutting, and eating strawberries will never be the same after reading this very well crafted poem. ?Sad smell of milk, diapers...? so precise, so revealing, as finney wrote.
Posted 07/09/2020 12:09 PM
Jean Colonomos-1:
I can taste your strawberries.
Posted 07/09/2020 11:12 AM
Cathyís Sister:
We were able to purchase some strawberries at a local farm in May. What a difference from the grocery store offerings with their ?pumped up, tasteless decorator berries!.? Enjoyable poem,
Posted 07/09/2020 10:45 AM
barbsteff:
I too am captivated by the "I don't have to be patient. I don't have to be good." line. Wonderful picture in this poem.
Posted 07/09/2020 09:43 AM
KevinArnold:
You had me at ?radiantly red.?
Posted 07/09/2020 09:41 AM
peninsulapoet:
Delicious poem. Wish I had some strawberries for my Cheerios--tasteless blueberries from Costco will have to do.
Posted 07/09/2020 09:36 AM
mail@schoolbusmart.com:
You brought me down there in the dirt, child-eye level, with that wonderful felt sense of what it was like to be picking, eating, tasting, and finger-licking. Bravo. Randy
Posted 07/09/2020 09:29 AM
paradea:
"I don't have to be patient. I don't have to be good"!!! What freedom. I like this poem.
Posted 07/09/2020 09:12 AM
Nabby Dog:
This is a stunning poem filled with such great vivid images. What a delicious gift to start the day!
Posted 07/09/2020 09:04 AM
cork:
I will cut strawberries into my Cheerios this morning.
Posted 07/09/2020 08:52 AM
Gilbert Allen:
I like the way the present moment and the childhood memory illuminate one another.
Posted 07/09/2020 08:50 AM
michael escoubas:
Really like the details in this poem and the sweet lusciousness of feeling and tasting. I've lived this and this poem returns me to the patch.
Posted 07/09/2020 08:31 AM
finney@charter.net:
?...it feels like a secret I shouldn?t know.? What a delicious phrase, Ginny. And ?...sad smell of milk, diapers soaking in a pail...?, an image so precise and revealing.
Posted 07/09/2020 07:08 AM
Sharon Waller Knutson:
I love this picturesque nostalgia poem. I can see the vibrant red strawberries, smell them and taste them. Very well crafted poem.
Posted 07/09/2020 06:09 AM