When I am an old woman,
I shall not wear purple.
I shall not wear anything at all!
I shall join a nudist colony
in the south of France and
stun sixty years worth of
friends and members at the
Holy Hallelujah Temple of Temperance
with my broad-minded acceptance
of my broad-beamed lovable self
and my amazing recovery from
a lifetime of latex dependency.
Or
I shall follow the example of
Miss Lillian and perambulate
with the Peace Corps into the wilds
of some unknown, undomesticated country
where my octogenarian expertise with
words and wood and mascara wands
will imbue untold numbers of natives
with the gifts of literature, ladders,
and longer lashes.
Or
I shall purchase a pavillion
near Walden Pond
and open a restaurant
for starving artistes.
The walls will be covered with
register tape sonnets and
luncheon napkin sketches
and I'll serve homemade soups
and play beach music and Bach
until dawn.
But
whatever I choose to do
in my final days,
I shall not wear purple,
and I shall absolutely not
go quietly into that last
good night.


From She of the Rib (CRM Books, 2006).
Used with the author's permission.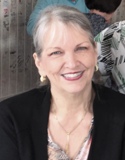 Jayne Jaudon Ferrer is the author of four books of poetry and a nonfiction book about games. She speaks frequently at churches, schools, and writing-related events and her work has appeared in hundreds of publications. Jayne is the founder and editor of YourDailyPoem.com and enjoys reading, music, old movies, gardening, hiking, and good conversation. A native Floridian, Jayne has lived in Greenville, South Carolina, for 25 years. Learn more about her at www.jaynejaudonferrer.com.
Shoshauna Shy:
I LOVE this! And I am buying the book it's in so I can read it over and over!
Posted 10/06/2020 01:38 PM
Maren O. Mitchell:
Jayne, thank you for this poem. It will make anyone who reads it more alive!
Posted 10/05/2020 11:19 PM
jayne:
Y'all make me smile. Hope every one of you will live life to the fullest 'til your dying day!
Posted 10/05/2020 09:28 PM
Lori Levy:
Great poem! Very imaginative and I love the humor!
Posted 10/05/2020 08:04 PM
Arlene Gay Levine:
Walden Pond, Bach...I'm right there with with you, Jayne! A delight...
Posted 10/05/2020 05:55 PM
michael escoubas:
I for one, want to see this! Great poem Jayne!! Let's have more.
Posted 10/05/2020 05:17 PM
mail@schoolbusmart.com:
Ha. Do not go quietly or gentle into that last good night. All the options are fun with great alliterations. I am also reminded of Bush Sr. sky diving. Like you would never be in a nudist colony, you will never see me jumping from a plane. Randy
Posted 10/05/2020 03:12 PM
TheSilverOne:
Q fun, wonderful and inspiring poem from another broad-beamed lovable self who is swiftly reaching the "old woman" years. ~ Doris Bezio
Posted 10/05/2020 02:35 PM
Anastasia:
This is wonderfully fun and inspiring! Thank you, Jayne!
Posted 10/05/2020 01:36 PM
pwax:
I love it, Jayne! I like a woman with attitude.
Posted 10/05/2020 12:56 PM
Linda Lee Konichek:
Jayne, I have loved this poem since the first time I read it. Now that I know it is one of yours, I will treasure it even more! At age seventy-nine, I can really relate.
Posted 10/05/2020 12:02 PM
AlmaMPesiri:
Well, Jane As a widow age 80 and counting I haven't done any of those YET...only the poetry writing/reading/performing. Nude? I don't think so! Your poem brightened my day...
Posted 10/05/2020 11:59 AM
DavidTookey:
Wonderful! I like a poem that allows one to breathe easier. Well done!!!!
Posted 10/05/2020 11:21 AM
Cathy's Sister:
Loved the poem, and especially the reference to mascara wands and longer lashes. What a feel good, laugh out loud poem!
Posted 10/05/2020 11:18 AM
Gilbert Allen:
I think it's about time for a new "Naked Poetry" anthology!
Posted 10/05/2020 10:41 AM
Jean Colonomos-1:
Such fun and playful ideas to muse on. You put a spring in my step.
Posted 10/05/2020 10:00 AM
NormaB:
Wow! I?m with you, Jane! We?ll turn the world on its toes! Wonderful!
Posted 10/05/2020 09:56 AM
paradea:
Love this!!!
Posted 10/05/2020 09:52 AM
Sharon Waller Knutson:
I woke up to a wonderful surprise this morning when I saw this delightful poem by none other than our editor, Jayne. I love this poem. I laughed out loud at the thought of our Jayne as old in the first place and secondly joining a nudist colony or the Peace Corps or serving soup on the beach. I picture Jayne keeling over after posting a poem and sending out a subscription email long after I am gone. Terrific job Jayne.
Posted 10/05/2020 09:22 AM
MLove:
YAY!!! Thanks for treating us to one of your poems and this one was wonderful!
Posted 10/05/2020 09:22 AM
bobbi43sml@aol.com:
Woke up not feeling any younger today and your poems me ready to put on my polka dots and show up at the pavilion on Walden Pond. (Also lovely to get to see you face ) Thanks for the boost to my week
Posted 10/05/2020 09:06 AM
Larry Schug:
p.s. I'm going to send this poem to a friend who is facing her first chemo therapy treatment today. This poem is meant to be a gift.
Posted 10/05/2020 09:01 AM
Larry Schug:
Exactly the way we should face everyday. Thanks for this fine poetic reminder, Jayne.
Posted 10/05/2020 09:00 AM
cork:
We octogenarians must stick together.
Posted 10/05/2020 08:46 AM
chris.swanberg@comcast.n:
What fun.
Posted 10/05/2020 07:32 AM
Stephen Anderson:
I love the spunk of this poem, Jayne. May that we all be blessed with it always!
Posted 10/05/2020 07:02 AM
Randy Cadenhead:
You will be an old woman, because a true poet, like a great poem, never grows old!
Posted 10/05/2020 07:00 AM
Nicholas:
Haha. Perfect way to start Active Aging week. V. entertaining. Loved the riposte to Jenny Joseph's 'I shall wear purple' and the tribute to Dylan Thomas. Bravo!
Posted 10/05/2020 06:43 AM
r1manchester:
I hope you do not wear black either in your dotage, just jaunty reds and blues. Nice poem!
Posted 10/05/2020 05:48 AM