Within our hearts what happy memories well
To-day, and a new thankfulness compel.
The bygone years return with only their
Remembered tenderness, and, unaware
Of age and change, the old-time love retell.

But while we feast, we cannot quite dispel
Regret for lost ones whom we loved so well.
Yet why thus grieve? There is no vacant chair
Within our hearts.

Ah! friends, does not this constant love foretell
A future greeting, for each last farewell?

Even to-day we tread the Heavenly stair,

And now their immortality we share.
If our beloved ones thus ever dwell
Within our hearts.


This poem is in the public domain.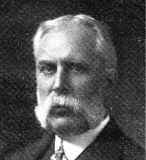 James Terry White (1845–1920) was born in Massachusetts and evolved into rather a Renaissance man through his participation in a variety of interests and activities. He founded a publishing company, served as president of a typewriter company, a mining company, and a rubber company, was vice-president of a press bureau and a pharmacy, and even invented a medical manikin. In between all that, he managed to create several collections of poetry. This poem is usually attributed to John Greenleaf Whittier, but research by the Paris Review and author and scholar Dr. Daniel Swift indicates that a variation of this poem, written by White, appeared in Century magazine in August 1907.
Jean Colonomos-1:
Happy Turkey (?) Day, Everyone.
Posted 11/25/2020 09:53 AM
michael escoubas:
What a robust, accomplished man in so many areas of life. His poem is truly sensitive to where we live and what we feel . . . no matter the period in history.
Posted 11/25/2020 09:37 AM
Larry Schug:
For me, the lesson of this poem is that no one really dies until there is no one left to remember them.
Posted 11/25/2020 08:03 AM