Steep Rock Preserve, Washington Depot, Connecticut
Rooted firmly in soil
he's witnessed and weathered
decades or more
of changing seasons

Imposing
craggy
long-faced and lumpy
with skin deeply wrinkled
he watches us all

hikers pushing forward
with boots and poles
on spongy pine needles
and slippery dead leaves

and I wonder how many
have noticed him before
felt the gentle warmth of his gaze
the wisdom in his hint of a smile

and when I look
into his earnest dark eyes
childhood fantasies
begin to come alive
and I'm suddenly safe
in a fairy tale forest


From a forthcoming collection, Dual Impressions.
Used here with permission.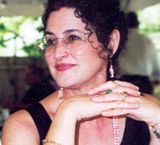 Joan Kantor lives with her husband in Collinsville, Connecticut. A college counselor and learning disabilities specialist for many years, Joan also has training in education and marriage and family therapy. Active in a number of poetry outreach efforts, she is a member of the International Academy for Poetry Therapy and collaborates with both visual artists and musicians in Stringing Words Together, an interactive program of poetry and violin music. Her most recent chapbook is Too Close For Comfort (Aldrich Press).
Anastasia:
What a wonderful way to capture the photo in words! I hope some of the hikers notice, and offer greetings.
Posted 12/15/2020 02:57 PM
Jancan:
Heartwarming and thoughtful
Posted 12/14/2020 10:56 AM
Lori Levy:
Perfect blend of poem and photo.
Posted 12/12/2020 05:49 PM
michael escoubas:
From the perspective of a tree . . . who even has a face. Stoic companion to passers-by. Well done, Joan.
Posted 12/12/2020 11:06 AM
Stephen Anderson:
Joan ~ Your image and the poem itself remind me so much of the lithographs done by the artist, Alfred Sessler, those in which he portrayed the beauty and value of gnarled tree trunks with seemingly scary faces yet conveying so much beauty.
Posted 12/12/2020 10:52 AM
Jean Colonomos-1:
Your poem brings back all the astonishing moments I've had while hiking in Southern California. Thank you.
Posted 12/12/2020 10:10 AM
KevinArnold:
Funny how some seemingly off-subject details bring this reader in, so I?m right there: ?on spongy pine needles / and slippery dead leaves?. Great work.
Posted 12/12/2020 09:52 AM
Ronaccount:
I love ?imposing, craggy, long-faced and lumpy.?
Posted 12/12/2020 09:33 AM
Larry Schug:
An Ent lives in Connecticut!
Posted 12/12/2020 07:51 AM
peggy.turnbull:
I often see eyes and faces in trees. It makes me happy to read of "the gentle warmth of his gaze."
Posted 12/12/2020 07:39 AM
Jccjccac@aol.com:
The watcher in the woods. I love this poem - the feelings it stirs. Thanks for including the picture.
Posted 12/12/2020 07:33 AM
Sharon Waller Knutson:
I love the rhythm and the fairy tale quality of this delightful poem. I love the photo and how the description in the poem matches the photo perfectly.
Posted 12/12/2020 06:58 AM
jennath:
I loved the details of the leaves underfoot. Such a welcoming atmosphere created here, and the picture is delightful! Makes me want to go for a hike.
Posted 12/12/2020 01:33 AM